I had recently had the chance to photograph a sunset at the Outlet State Park below the Tuttle Creek Dam, a place I have taken photographs in several times before.
I was out with one of my photography classes at the Outlet Park for the sunset.  Towards the end of the evening the class ended up on a rocky stretch of the bank of the Big Blue River where it flows out of Tuttle Creek Lake. I have photograph a few sunsets from this little stretch of shore.  You normally have a nice view of the setting sun and often get nice reflections in the water as the sunsets.  The rocks and plants on the shore make for interesting foreground subjects to photograph with the sunset.
I took this photograph as color was just starting to form in the sky.  A low vantage point (i.e. tripod at ground level) let me emphasize the plant in the foreground and still capture the sunset.  If I had shot from a standing position, this plant would barely be noticeable.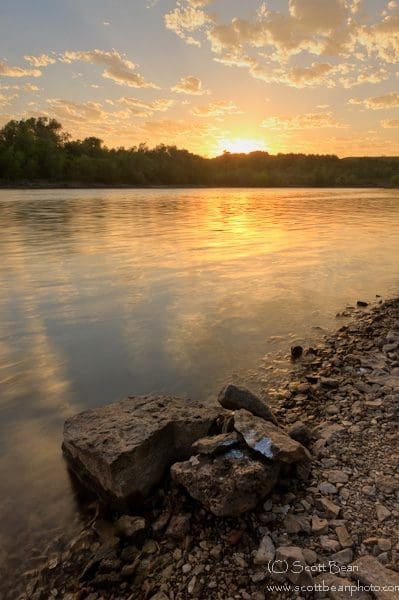 As the sun continued to set and more color appeared in the sky, I moved to a new position just behind this rock; again a low vantage point let this rock play a stronger role in the photograph than if I had just shot standing up.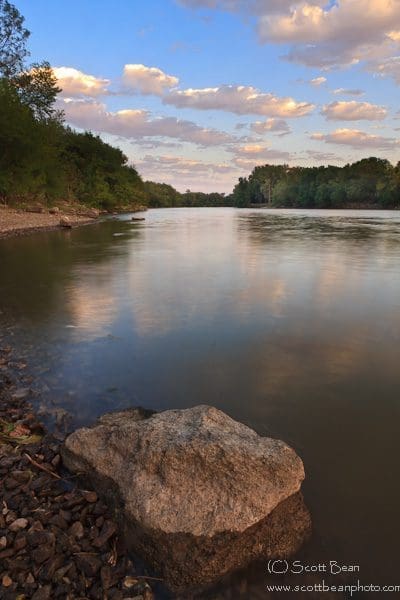 Anytime you see a really colorful sunset don't forget to turn around and look behind you.  If there are any clouds there there is a good chance they will be reflecting the colors of the sunset.
If I've photographed at this spot before, why bother to go back? Well for one thing, the light is never going to be exactly 100% the same when you revisit a location.  And being familiar with a location helps you know how the light is going to be in that spot. You also don't need to spend time scouting for subjects.  Many times people seem to think they need to visit far away exotic locations to find landscapes to photograph while overlooking what is right in front of them.  Going to new locations is always fun and can be a great way to break out of a rut, but when I'm photographing on familiar ground that I know well and feel a connection with almost always results in stronger photographs for me.  I can't tell you how many times I've read similar statements from other photographers.
Stuck close to home this summer? Grab your camera and revisit some familiar locations.