I'm writing this post toward the end of Winter when I'm really looking forward to Spring and bright, vibrant colors coming back into the world. The tail end of Winter is probably my least favorite time of year. I've been catching up on editing photos from this past Fall and looking back at the Autumn colors was enjoyable as I wait for Spring colors to show up.
It seemed like this Fall, the trees changed colors in bursts, and we had pockets of color develop and then fade then other pockets of color show up as a different set of trees changed into their Fall wardrobe. The sycamore trees were especially beautiful this past Fall and with more red color to their leaves than I can remember from past years.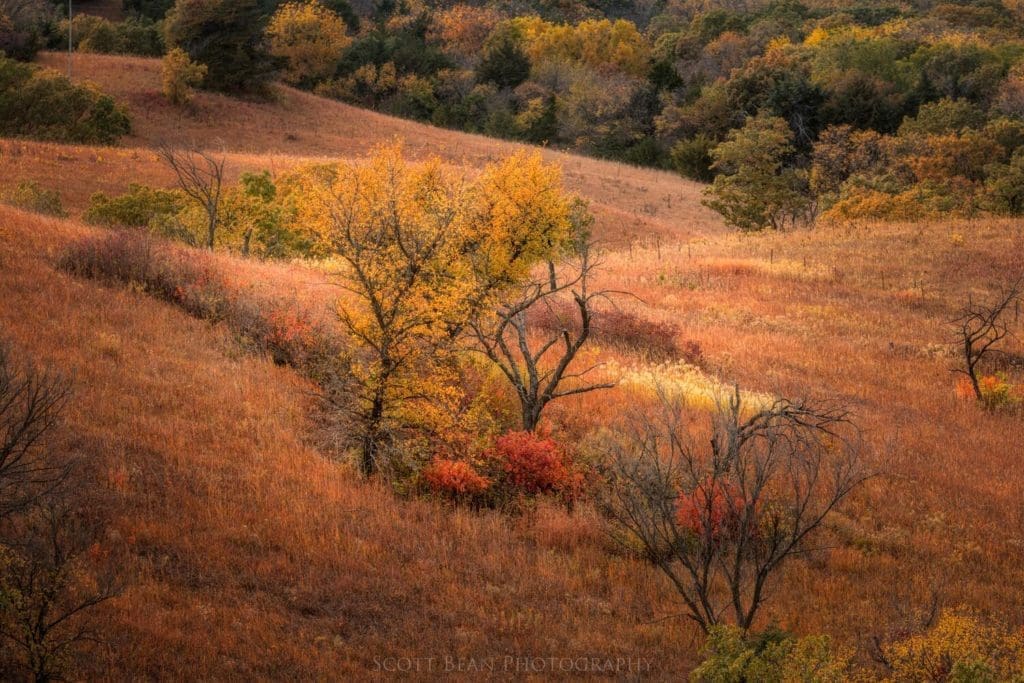 I'm sure that each year the Fall colors arrive in a cycle with some trees changing colors before others. This year that cycle of color change seemed to be more distinct. The photo above was taken on October 24th and the prairie grasses were maybe at their peak of color. The trees were just starting to change colors though, with some small trees showing some bright yellow colors. I liked this photo with the variety of color in the grasses, the trees, and bushes. There is still a lot of green in the trees in the background though.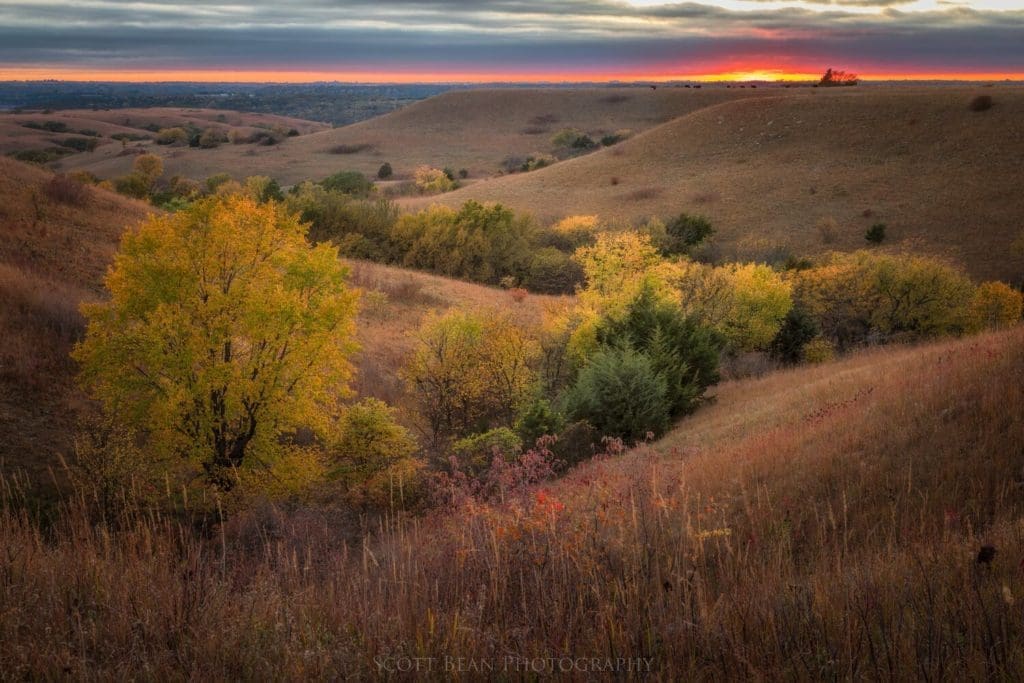 This next photo was taken at sunset on October 24th and again there are some trees that are yellow, some with yellow and green showing and more trees in the background that are still all green. I really liked the view down this draw with a bit of sunset color showing on the horizon.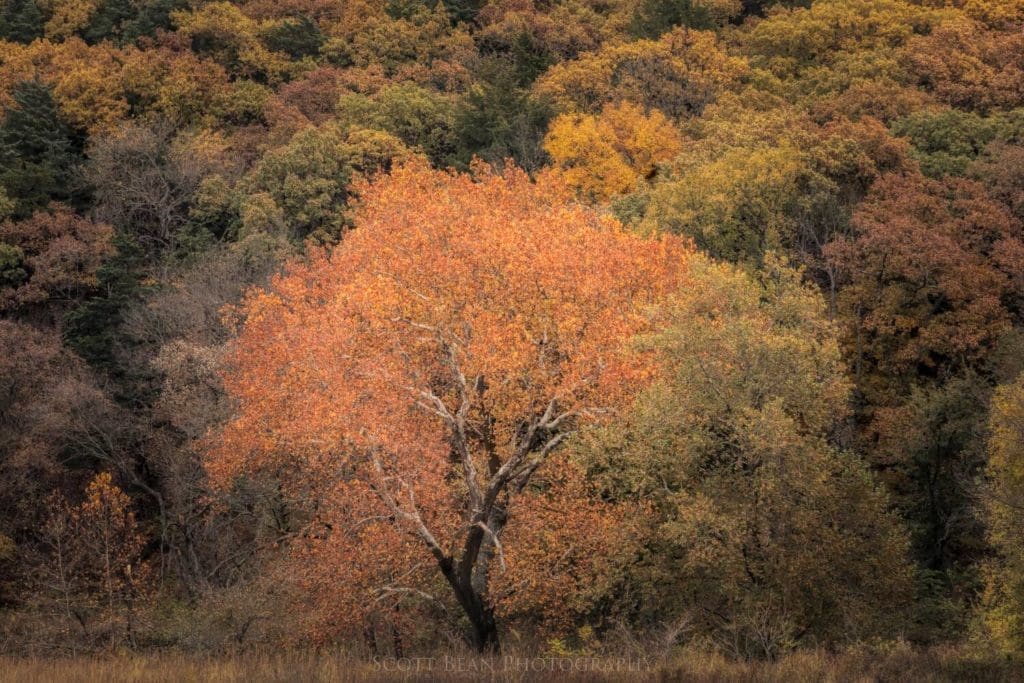 The photo above was taken on November 3rd and shows some bright orange showing up on a sycamore tree (or at least what I think is a sycamore tree, I don't know my trees very well at all). I really liked the splash of color showing on this tree as well as the shape of it.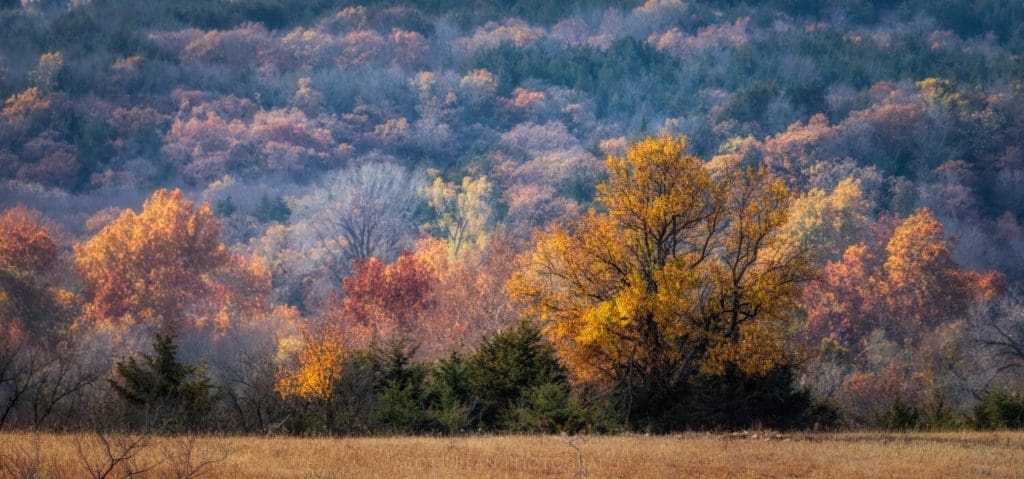 Moving forward a few days to November 7th and now more trees are starting to show their colors. This scene was lit perfectly and I used a polarizing filter to help bring out the color in the trees. Most of the trees on the hillside in the background have lost their green and a few trees here and there have already lost their leaves.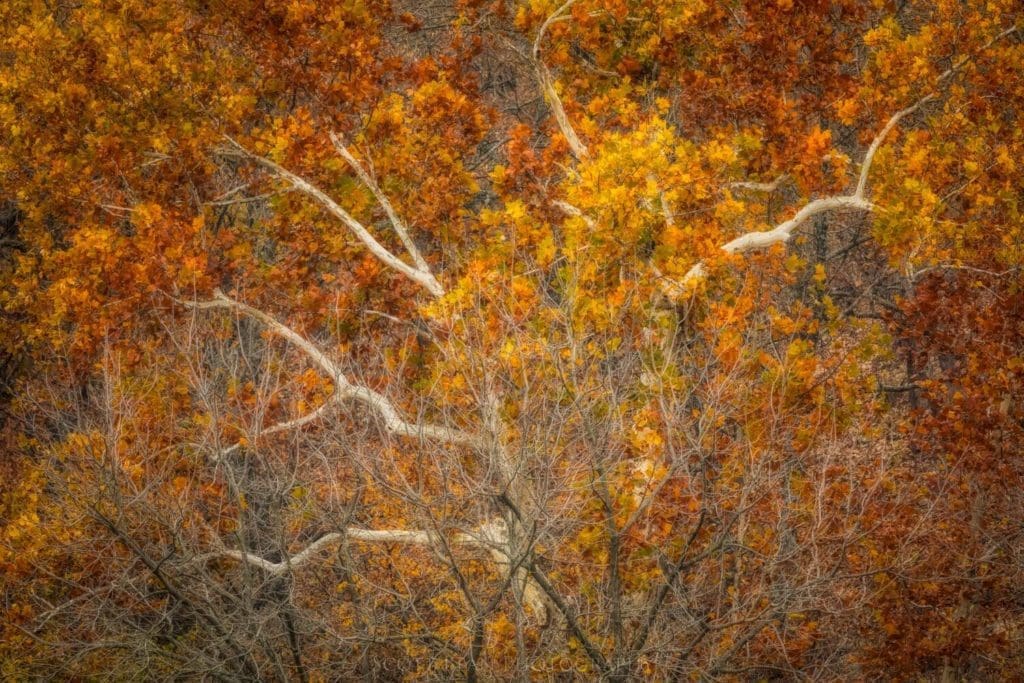 This photo is a close up of another sycamore tree and was taken on November 10th. This scene reminded me a bit of a stained-glass window.
The final photo in this post was taken on November 12th. I always enjoy photographing lone trees on the prairie and this tree with its bright yellow leaves was a good subject. I used a telephoto lens to isolate just the tree against a hillside with no sky so it was all just Fall color. If I remember correctly, this was a very windy day so it wouldn't have been a pleasant time to sit under this tree with a good book, but on a nice still fall day this would be a great place to spend some time reading.
I'm looking forward to Spring and the return of color in the world. It was nice to go through these photos of Fall color while I wait for Spring to show up. The colors of the prairie grasses in the Fall are usually one of my main subjects when I'm out with camera that time of year. It is hard to ignore the trees though when they get dressed up for Fall. Someday I want to see Fall colors in places like Michigan or Vermont and I'm sure I would be stunned by the beauty and color of those regions in the Fall. I will keep my eyes open though wherever I am enjoy Fall that any region or landscape brings to me.
If you would like to see more of my photos, please stop by my website and browse my online image galleries.
Thanks for stopping by!