This past winter I spent more time photographing wildlife than I normally do. Granted this wasn't a lot of time, but it was something different for me. I got started photographing wildlife at the "freeze your buns off " (FYBO) event at the Maxwell Wildlife Refuge set up by fellow photographers Jim Griggs and Jeff Heidel. This was the second winter I had been out to photograph the elk at Maxwell and I've really enjoyed it both times (and lucked out of really cold weather both times!).
The Maxwell Wildlife Refuge is located in central Kansas near Canton, Kansas and is adjacent to the McPherson State Fishing Lake. More to the point of this post, there are both bison and elk at the refuge. Yes that's right, elk. Elk at one time were native to Kansas but were gone by the time the state was settled, sometime around 1890.  When they were here, elk were found throughout the state, but interestingly the Smoky Hills region was reported to be where they last were found in Kansas so it is fitting that one of the places that still has elk is Maxwell. In addition to the elk, Maxwell also maintains a herd of bison, which of course used to be found throughout North America. The combination of both elk and bison make the Maxwell Wildlife Refuge unique in Kansas, and maybe in the U.S.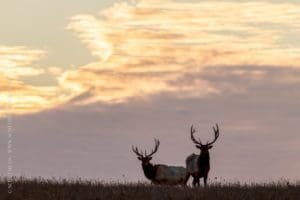 We started our morning by photographing the elk and things got started with some nice opportunities to photograph the elk against the morning sky.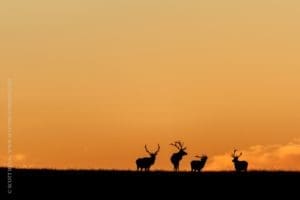 After photographing the elk for awhile we moved on to photographing the bison. The bison herd was moving toward us which made for some nice opportunities to photograph different groupings of them. My favorite bison shot of the day was the above photo where I was able to isolate a single bison with a pond behind. The pond was reflecting the blue morning sky well and made for an interesting color backdrop for the bison.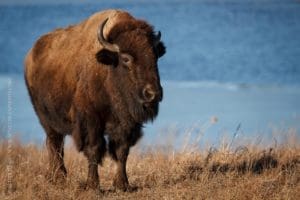 There are several events held at Maxwell each year which you can find out about on the main webpage and at this Facebook page . There are also some photographer-specific events held at Maxwell which are great opportunities to photograph the bison and elk. Jim and Jeff will be hosting some "wildflower and wildlife" workshops there this year and coming up on June 8th there is a "baby bison and wildflowers" event for photographers.
If you have a chance to visit the Maxwell Wildlife Refuge I highly recommend it, especially if you can be there for one of the special events held at the refuge.