When I first learned that the Flint Hills are home to several thousand wild horses, I knew I had to try and photograph them someday. These horses are in Kansas as part of a program run by the Bureau of Land Management (BLM) and are in areas called "Long Term Holding facilities" where horses are sent from BLM lands.  Wild horses and burros are protected in the US by a 1971 law – however there is a controversy around the management and populations of the horses.
I've visited Teter Rock a few times before (including for some Milky Way photography) and have really enjoyed photographing the area, but I had never seen the horses on my previous visits. A few weeks ago at the end of July my wife and I had a chance to visit Teter Rock and we were hoping to see and photograph some of the horses. We were in for a treat.

(4 frame panorama – each frame ISO 400, 400mm, f/5.6, 1/400)
We arrived at Teter Rock and were immediately greeted by the sight of a large group of horses spread across the hills next to Teter Rock, probably between 100 and 150 horses. We could see another large group off in the distance.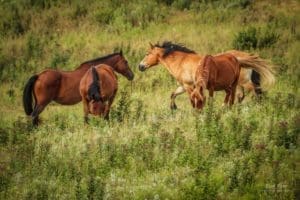 (ISO 400, 560mm, f/8, 1/250)
The horses were close enough that I could photograph groups using a 400mm telephoto and could isolate smaller groups using  a 1.4x teleconverter with my 400mm lens.
(ISO 400, 560mm, f/8, 1/250)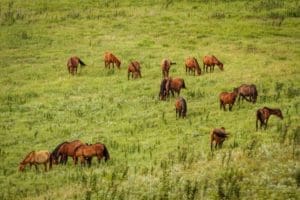 (ISO 400, 300mm, f/8, 1/250)
Both my wife and I really enjoyed watching the horses. I've never seen that many horses together in one place before. It was a great experience.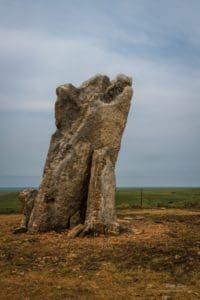 (ISO 400, 24mm, f/8, 1/1000)
Of course you can't visit Teter Rock without making some photos of the rock itself.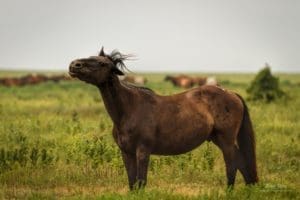 (ISO 400, 400mm, f/5.6, 1/500)
After watching the horses for the better part of an hour (and then photographing Teter Rock), we drove some around some of the country roads in the area and came across another group of horses. Then it was time to head home in front of a much needed rain storm. I was really thrilled with being able to spend some time watching the wild horses at Teter Rock and I'm looking forward to getting back for another visit as soon as I can. I'm constantly amazed at the really interesting things there are to see and experience in the world around us. If there is one theme I would like to convey with this blog and my photography it is to get out and explore the natural world around you wherever you are. It is a fascinating place…don't take it for granted and don't overlook it.
View more of my Flint Hills photographs here in these galleries on my website:
The Flint Hills –The Intimate View
The Flint Hills – The Wide View