Judging by today's temperatures you might not guess that spring is getting closer.  The calendar says it is though, so I'm hopeful that it will actually arrive at some point.  Spring means all sorts of good things like warmer temperatures, stuff turning green, flowers blooming, and of course spring rains.  Spring rains mean that waterfalls will start running full again, which is great for me as I love photographing waterfalls (who doesn't?).   Earlier this week I ventured out to Lake Idlewild just outside of Waterville, Kansas with my Dad to see how the waterfalls there were doing.  These waterfalls are created by overflow from the lake and I was happy to see water flowing over the 'spillway' at Lake Idlewild when we drove up.  There wasn't enough water flowing yet to really have the falls running full, but there was enough to photograph. This first photograph is of the upper falls at Idlewild.  My Dad was smart enough to find an easier way down to the falls (there is a lot of brush around the falls) and I was able to find a new vantage point to make some photographs of the upper falls.
The lower set of falls is more interesting, at least to me, but challenging to find new viewpoints to photograph it from. This second photograph was made from a section of gravel and rock below the falls. I like it, but it really isn't any different from the photographs I've made at previous visits to Idlewild.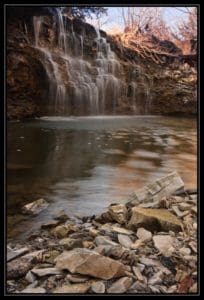 To try and create a more unique photograph of this particular visit to Idlewild Falls,  I backed off and included some of the rocks in the foreground along with the falls. I've made photographs similar to this one before at Idlewild as well, but not from this view point.  For me, this was the most interesting photograph I made at Idlewild this trip.  I think it is important to watch out for getting stuck in photographic 'ruts' when visiting places you have been before.  I believe that photographing familiar places results in your best work because you know the locations well, but you do need to be on guard for shooting the same scene over and over again.  It's good to force yourself to look for new vantage points.
It was completely calm when I left Waterville that evening and I drove by a couple of ponds that had beautiful reflections in them.  I almost stopped to make some photographs at the first set of ponds I drove by, but I remembered a very small pond surrounded by trees farther down the road that I have always wanted to photograph. By the time I got there, it was a bit later than I would have liked and I almost drove on, but I decided to stop.  I'm glad I did.  The colors and the reflections in the pond were beautiful.
I was feeling a bit lazy when I made this stop so I didn't use my tripod as I was making these photographs. As dark as it was shutter speeds were pretty low, even using high ISO's and shooting with image stabilized lenses.  While I did end up with some usable photographs, I really wish I would have taken the extra few seconds to get my tripod out.  Almost every time I debate whether or not I should use my tripod and I end up not using it, I wish I would have when I view the photographs at home.   I've marked this point on maps and will be keeping an eye out for opportunities to photograph other sunsets over it, but who knows if I will ever be in the area again at the right time. I should have used my tripod.
Spring is on the way and everyone will be busy with spring cleaning.  Maybe spring is a good time for cleaning out your bad photography habits!