Kansas is not at the top of the list as a hot spot for watching bald eagles in the winter; in fact it might surprise many people that bald eagles can be seen in the state at all. Each winter bald eagles spend some time at lakes and rivers across the state and can often be seen fishing or perched in tree tops. There are occasionally a few nesting pairs of bald eagles in the state as well.
I've been out to Tuttle to photograph the eagles a few times over the last couple of years, but had yet to have one catch a fish very close to where I was watching. Earlier this year I was at Tuttle along with friend and fellow photographer Jim Griggs (awhile back I interviewed Jim about photography) trying to photograph the eagles and shooting the bull as time allowed (it is probably more accurate to say we were shooting the bull and trying to photograph the eagles as time allowed).  We had spotted an eagle sitting in a tree top that would periodically leave the tree and swoop down over the river at the outlet below the dam at Tuttle Creek Lake. Jim and I would leave our nice warm blind (i.e. his minivan) and jump out in the cold to try and get shots of the eagle as it flew by us. I think the eagle would wait until one of us was really into a good story and then it would make its approach (eagles must have built in BS detectors).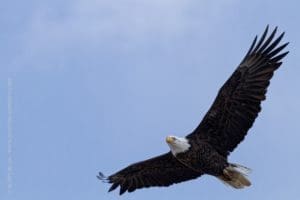 On one such fly-by the eagle gracefully flew right over us, what a sight. These truly are some magnificent looking birds. The eagle seemed to be looking right at us as it flew over, probably laughing at us shivering in the cold weather that it had just made us scramble out into.
We did eventually get to see the eagle swoop down and snag a fish out of the water. Pretty impressive to see at a relatively close distance (I doubt the fish would agree with that though). Seeing the eagles flying around the area is always a good sight to see. Next winter do yourself a favor and see if the eagles are visiting any lakes near you and take a drive out to watch them. Area lakes will often have "Eagle Day" events that are a great educational opportunity.
I haven't been as dedicated at getting out to photograph the eagles as I could be. Check out the work of Mike and Al who have been a lot more diligent about getting out on cold winter mornings to photograph the eagles.
(Visit my photo galleries to see more of my work and purchase prints).