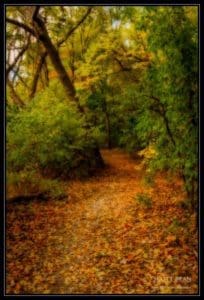 (click on photo to enlarge)
I've had the opportunity to take several walks through wooded areas around Manhattan over the last few weeks. With the cooler temperatures and changing colors Fall is a great time for a walk in the woods.  The photo above was made along the Cottonwood Trail in the Riverponds campground at Tuttle Creek Lake. There are several hiking trails around Tuttle and several others around Manhattan. Everyone knows that exercise is good for you so obviously going for a walk in the woods helps get your daily exercise in.  Enjoying nature is also healthy in a number of ways including reducing anxiety and depression which is another reason to get outside for a walk in the woods this Fall. If you need another reason to get out on the trails, hiking may make you smarter!
When I was on Cottonwood Trail Sunday the sounds of the breeze blowing through the trees and the light and shadows on the trail created an almost mystical feeling.  I wanted that feeling to come across in my photograph of the trail so I applied a "Orton" effect to the photo to give the trail a dreamy, glowing look to it.  To me, this best captures what it "felt" like to be out there on the trail.  I can't wait to get back.