This past Saturday I was up and out the door before sunrise to do some photography, with my initial plans being to head to the Pottawatomie County Lake #2. As I was leaving Manhattan, the pre-dawn sky was showing a light pink color that was really pretty. I didn't think I had enough time to make it to my original destination before this color had faded from the sky so I took a detour to a location along the Big Blue River below the dam at Tuttle Creek Lake. I didn't see anything at this spot that really caught my attention so I detoured again to another location with a small pond lined with redbud trees. I was hoping the color in the sky would be reflected in the pond. No luck at this second stop either, nothing there inspired me to stop, so I headed to my original destination. By this time, though, the sunrise color was gone from the sky and the wind had started coming up, stirring up the surface of the lake and ruling out any photographs of reflections in the lake surface. Strike three. Rather than just go home, I decided to take a drive out through the Flint Hills south of Manhattan and while there, I stopped at Pillsbury Crossing. I always enjoy visiting Pillsbury.I have spent a lot of time photographing the waterfalls there and it was where I really taught myself how to use my camera and learned how different camera settings can influence the look of a photograph (several photos in my 'Energy of Water' gallery on my website are from Pillsbury).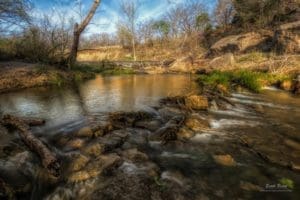 (ISO 100, 10mm, f/16, HDR-various shutter speeds)
The water was flowing moderately over the falls and the first place I stopped to do some shooting was back away from the main set of falls. A line of rocks and tree branches had formed a small series of ripples that I composed in the foreground with the main set of falls serving as a backdrop. The line of ripples that I used as a foreground element was in the shade and the main falls were in direct sunlight so dynamic range was a bit of an issue and I shot a 3 exposure sequence for an HDR of this scene. As it was still fairly early on Saturday morning I had the place to myself and could have just sat down and spent some time listening to the water (sitting down where I shot this photo would not have been a good idea though as I had waded out into the stream a bit-that would have made for a very wet ride home!).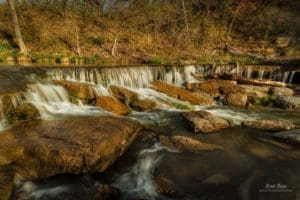 (ISO 100, 10mm, f/13, ¼)
I worked my way to the main falls and spent some time composing a few scenes using a wide angle lens to capture the full set of falls. The falls were in direct light now which was causing a couple of problems for me. Due to the amount of light, I couldn't get a slow enough shutter speed to give me the look I wanted of the water coming over the falls. I used a variable neutral density (ND) to help reduce my shutter speed (ND filters are basically dark glass that reduce the amount of light coming through) to the level I wanted. The ND filter also helped me avoid using really high f-stops to get a slow shutter speed. Shooting at extreme f-stops can lead to a loss in sharpness due to refraction, so using the variable ND filter was a double bonus.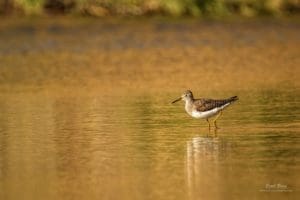 (ISO 400mm, 400mm, f/8, 1/200)
After I had made a few images using my wide angle lens, I switched to a telephoto to try and make some images of small isolated sections of the waterfalls (like this one). I wasn't happy with any of these images though, but it was fortunate that I had switched to my telephoto lens. Not long after I had switched lens an Upland Sandpiper landed in the water above the falls and began wading around. Since I had my telephoto lens already on my camera, I was able to immediately start photographing the bird without the need to switch lenses and potentially scaring the bird off. Since I have one of the custom settings on my camera configured for action photography, I didn't have to spend much time changing any camera settings either. I enjoyed watching the bird wade around in the water.
This was the first time in awhile that I've made it out and about on a weekend in the morning and I really enjoyed spending some time back outside. I think we all know that spending time outside is good for us (if you need to hear that from some experts, read about it direct from the Harvard Medical School) but it can be difficult to carve out time to spend outside. I hope to be spending more and more time outside now that spring is here, hope you will too!