(click on any photo in this post to enlarge it)
I had the chance Saturday to do some exploring around Alma with the gang from Kansascapes.  We had hoped to photograph the moon rise out in the Flint Hills, but the clouds weren't cooperating with us; a predicted 25% cloud cover had turned into 95% cloud cover.  We had fun shooting around a small lake, especially closer to sunset when the winds calmed down.
As it got closer to sunset the clouds cleared a bit in the west, enough that the sun was shining through the clouds. I thought the photograph above was probably going to be the only sunset shot I was going to get.  Since the clouds were clearing out a bit, we decided to head up to skyline and see if we could catch the last of the sun as it went down. I really wasn't expecting too much of a sunset.
Turns out I was wrong about the sunset that was developing for us.  The clouds had broken enough right on the horizon that the setting sun was really starting to put on a show as it went down.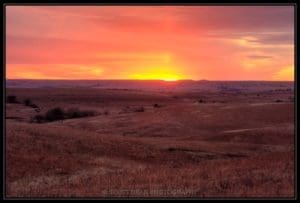 The color in the west really intensified as the sun slipped below the horizon.  We were about to be treated to a really fantastic light show, a sun pillar.  You can just see the beginnings of it in this photograph.
The pillar was really visible for the next few minutes.  Combined with the great texture and shapes in the clouds and this was a fantastic sunset!  Good thing we didn't head back into Alma early.
The sky stayed fantastic for quite a while after sunset. This last photo was made almost 30 minutes after sunset. I was interested in trying to compose a photograph of the tire tracks leading off into the color along the horizon. Of course this late after sunset, the dynamic range of the scene was way too high for my camera to capture with one photograph.  To create this photograph I made 5 brackets of the scene for a HDR photograph.
Even without the amazing sunset and sun pillar this outing was fun, some good food at Deb's, some even better BS while we ate, and then an afternoon out in the Flint Hills.  The show we got from the sunset was the icing on the cake.  Having said that though, I'm really glad we didn't miss the icing!