I haven't been out with my camera much lately for a variety of reasons but mainly due to the insane heat wave we are in right now. I don't like hot weather at all!  If you don't believe me about the heat, check out the high temps we have had in Manhattan since July 15th: 103,104,103,104,103,105,106,107,107,105,94,99,110,97,89,97,105…yuck! (Did I mention I don't like hot weather?)
Anyway, I've been hiding away in the basement going through my archives and doing some cleaning up.  On Saturday I happened to go through some photographs I had made out at Tuttle Creek Lake in an area that used to be called "The Rocks"…at least it was called that way back in my undergrad days.  Every time I've visited The Rocks I've come away with some photographs that I've really liked so I decided it was time to stop being a wimp, get my camera gear and face the heat and head out to the lake. I'm glad I did (like I always am when I go out with my camera).
The water level in Tuttle is really high right now so I wasn't sure how much of the rocky shoreline would be available, but I knew the high water levels would also give me the opportunity to photograph rocks at the edge of the lake that are not usually at water level.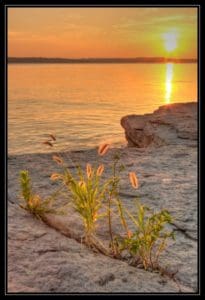 (click on any photo in this post to enlarge it)
By the time I stopped whining about the heat and actually got out of the car and made my way down to the shoreline the light was just about perfect (and only going to get better).  The first subject that caught my eye were the grasses growing up through cracks in the rocks.  The grass was being back lit by the sun and appeared to be glowing, it was really beautiful, enough to take my mind off the heat.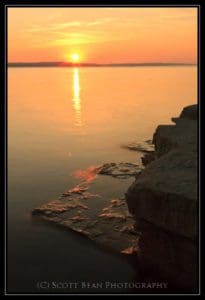 After making some photographs of the grasses, I started making my way along the shoreline photographing the rocks at the water's edge. I had in mind a perfectly smooth lake surface which would have required an absolutely still day…which I didn't have…and with the temp still above 90, thankfully so! In order to create the photographs I had envisioned I decided to use my variable neutral density (ND) filter.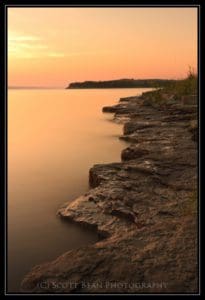 This filter lets me block out between 2-8 stops of light.  I've written about using this filter before while photographing at Tuttle.  By blocking out light I can achieve long aka(slow) shutter speeds.  Since the water is moving, slow shutter speeds mean the surface of the lake "blurs" and records as smooth.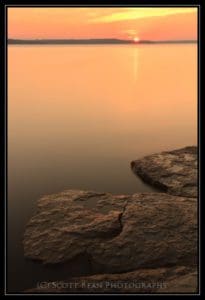 I did make several photographs at various points along the shoreline that I was really happy with and hope to be printing soon.  However, I was so focused on using long shutter speeds to blur the water that I missed out on some interesting shots of small waves created by boaters "crashing" onto the rocks.  I finally realized the potential of using faster shutter speeds to "freeze" some of the waves as they hit the shoreline, but by the time I removed the filter and got set up most of the boats had left the lake and without the boats the waves were too small.  It is good to have a vision of what you want to make photographs of, but not good to get so focused you miss out on other opportunities.  Now I'll have to go out in this blasted heat and try again for my "waves crashing into the shore" photographs.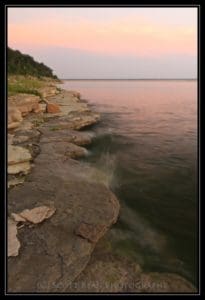 You might also have noticed that I wrote "In order to create the photographs I had envisioned" above.  Notice the word "create" in that sentence. I carefully did not say "In order to take the photographs…" Some food for thought, are you a "taker" of photographs or a "maker" of photographs?  More to come on that later…