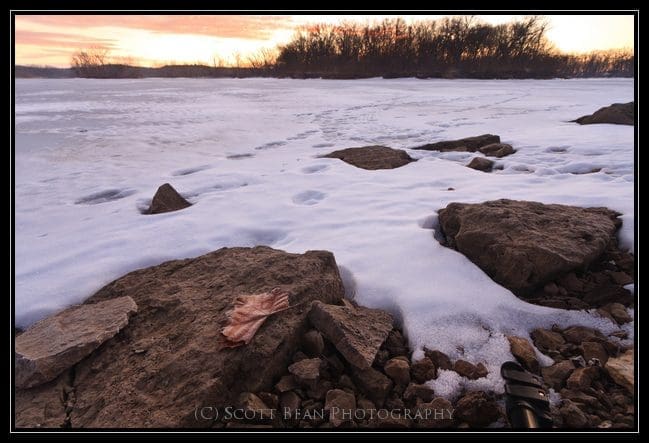 Today is Kansas Day and marks 150 years of statehood, which makes this our Sesquicentennial, which I'm glad I only have to type and not pronounce.  Since this was a special day for Kansas, I decided to get up this morning and photograph sunrise.   Amazingly, I managed to wake up before sunrise but almost didn't go out; the skies looked completely clear which in most cases is not good for landscape photography.  But as the sky lightened I decided to go out anyway, which turned out to be a good decision.  It was a beautiful morning.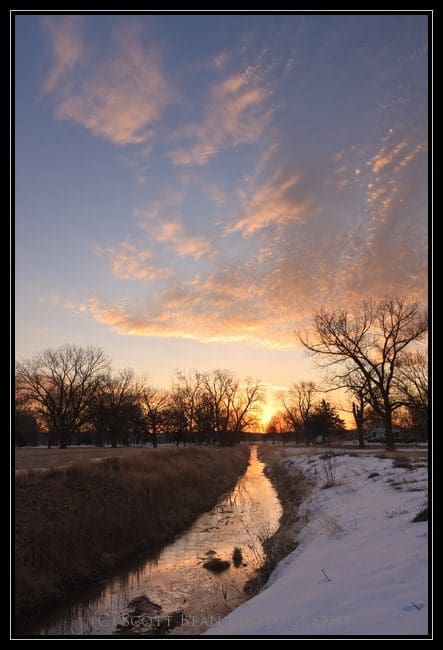 I made the first 2 photographs in this post at the River Pond park below the dam at Tuttle Creek Lake.  Last night I had done some scouting using The Photographers Ephemeris so I had an idea of where I wanted to be at sunrise.  My first stop though (and the first photo in this post) wasn't exactly what I had in mind so I decided to drive to the other end of the park. As I was driving through the park I passed this small stream which was lined up perfectly with the colors of the rising sun.  I made several photographs here, it was a  great place to do some work with leading lines.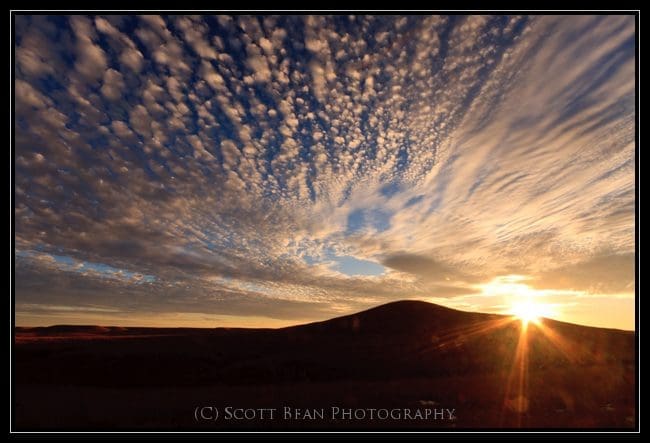 After making several photographs in the River Pond state park, I decided to drive out to Carnahan Creek and see what things looked like out there.  More clouds had moved in and were providing some beautiful skies.  I made the above silhouette at one of the scenic pullovers on the way to Carnahan Creek.  I thought about shooting several bracketed exposures and putting together an HDR photograph of this scene, but decided I liked the simple silhouette of the hill with the sunburst and clouds.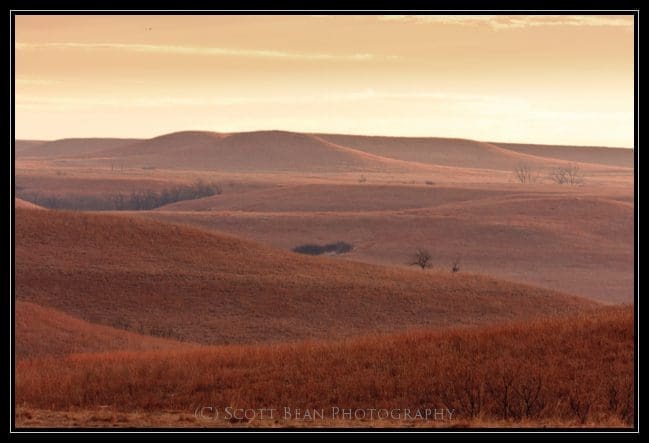 I had to stop and drive down Wildflower Road before I got to Carnahan, I just couldn't pass up seeing what the views of the Flint Hills looked like from up high before I drove down into the park at Carnahan Creek.  The sun had moved into the clouds at this point and the sky was still really beautiful, but there weren't any shadows on the hills at this point near the road.  No shadows meant that the hills all just merged into each other, I needed some shadows to help separate them.  All the "big" landscape shots I tried with a wide angle lens just weren't working.  I did find some views like the photograph above by using my telephoto lens. There was enough light falling on the hills here that combined with the haze of the morning, created that feeling of depth that I was hoping for.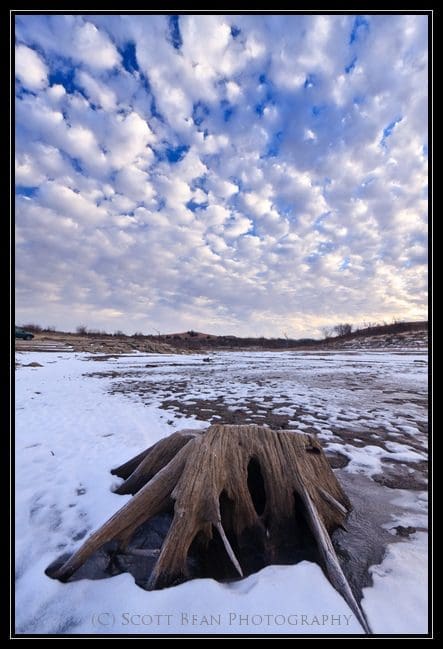 By the time I reached Carnahan Creek most of the color was gone from sunrise, but the clouds were very interesting still.  By using a ultra wide angle lens I was able to make several photographs  that captured the interesting patterns of the clouds in the sky. I really liked this tree stump, it would make a great place to sit with a book sometime…maybe when it was warmer though.
Happy Birthday Kansas! And thanks for all the great landscapes to photograph!