Several of my previous blog posts have talked about photographing recurring events each year. Looking at the world through a camera has definitely helped me be more aware of the cycles of the world occurring around me. Since I live in a state heavily involved in agriculture, some of the cycles I end up photographing each year are related to field crops. Kansas is known as "the wheat state" for a good reason, producing a significant portion of the U.S. wheat crop each year. Each summer I try to spend time photographing the wheat fields as they mature around the state. Wheat harvest was an important time in my house when I was growing up and photographing the wheat fields brings back a lot of memories for me. I also think the wheat fields are beautiful, and it can be very peaceful to sit and watch a field sway in the summer wind.
While wheat dominates the summer fields, fall brings a different set of crops to the fields.  These crops have their own unique features that they add to the world around me that I try to photograph each year as well.
In late summer and early fall the commercial sunflower fields are in bloom. I have photographed sunflower fields in bloom anywhere from the beginning of August through late September in Kansas, so this crop can have a wide window of opportunity to photograph them in bloom.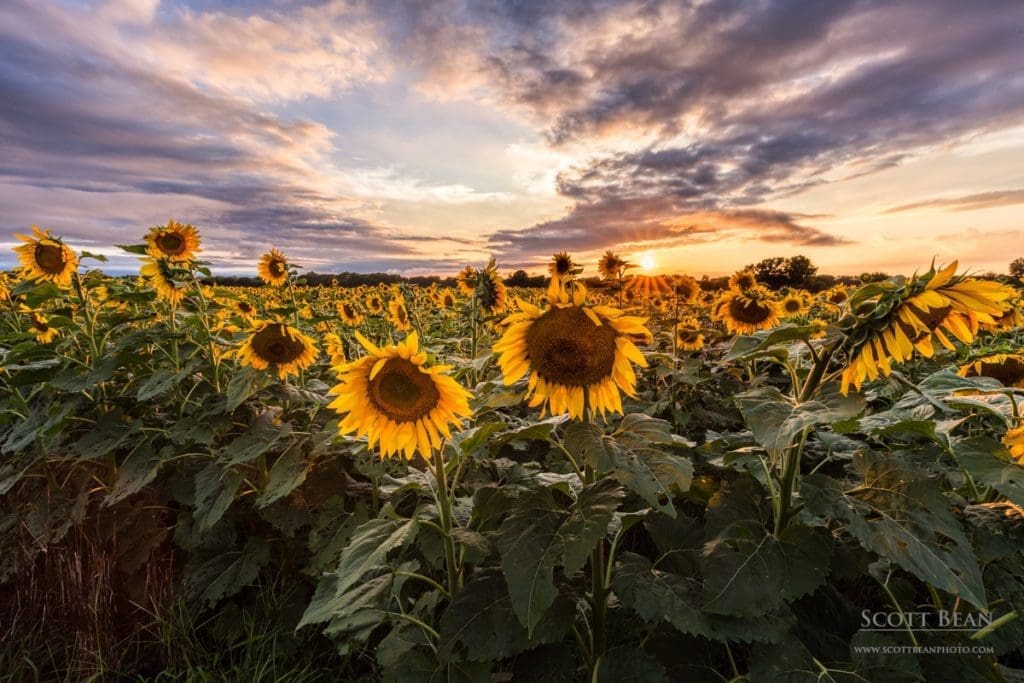 Acres planted to sunflowers in Kansas have been on the decline in recent years, but I usually manage to find a few fields to photograph. I photographed the field above in Marion county on September 16 of last year. The partly cloudy evening provided a beautiful sunset to go with the field.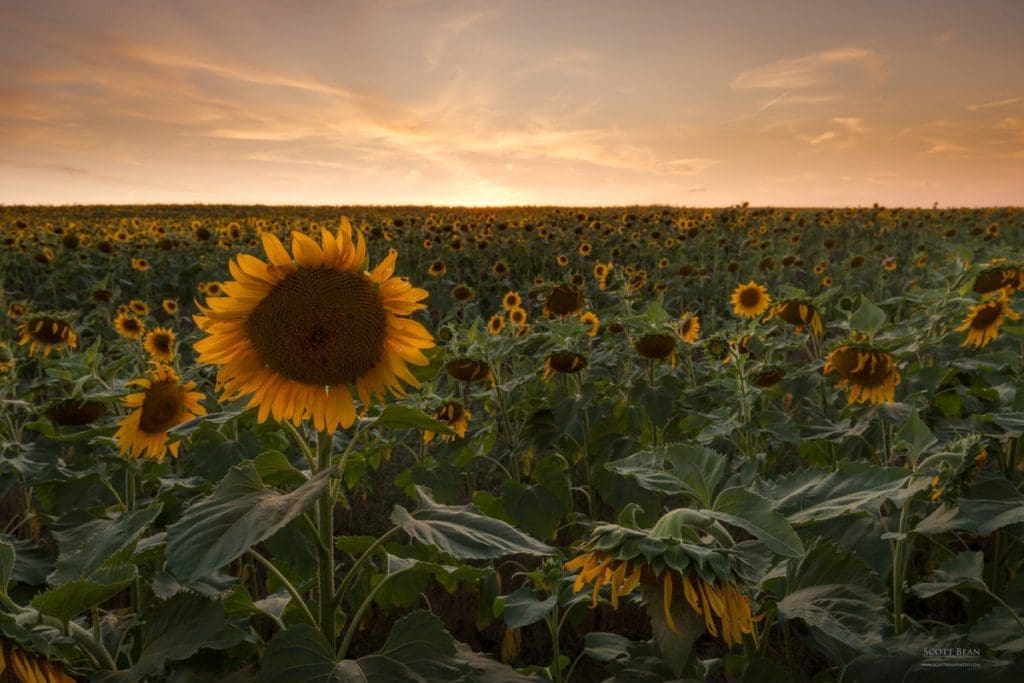 This year I was fortunate to have the chance to photograph two sunflower fields, one in Washington County and the other in Ottawa county, Kansas. The photo above was from Washington county. I had found the field a few days earlier when it was at its peak. I was there under pretty harsh light but it was still fun to spend some time making photos of the sunflowers. I decided to return later when I could be at the field at sunset, which is when I made the photo above. By this time the field was past its peak and some of the sunflowers were starting to droop (I know that feeling!).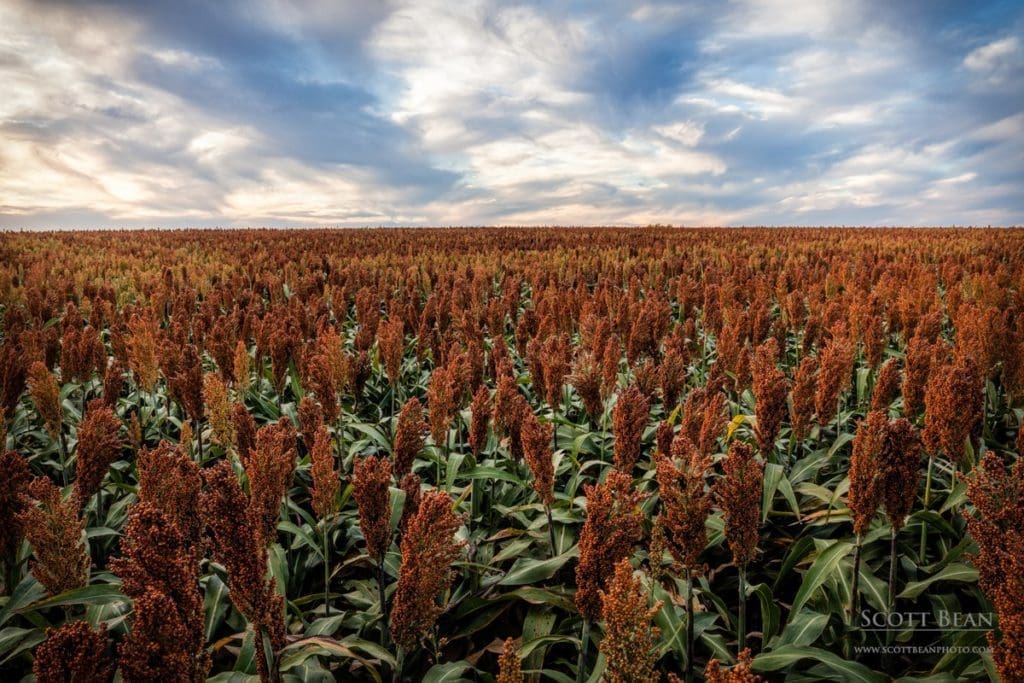 Besides sunflowers, another fall crop I make sure and try to photograph each year is grain sorghum or milo. Sorghum is a colorful grain and you can find it in various colors from all shades of red, white, and in some cases even black. Sorghum fields can change color over a wide range of dates depending on when the field was planted and the maturity time of the particular hybrid planted. The sorghum fields can also be pretty earlier in the season when the grain hasn't matured yet and is still green. The first sorghum photo above was photographed on Sept 25 last year south of Manhattan, the second was photographed Sept 30th north of Manhattan. I'm looking forward to getting out to photograph this year's fields, there are several photos of milo fields I have in mind that I would like to make.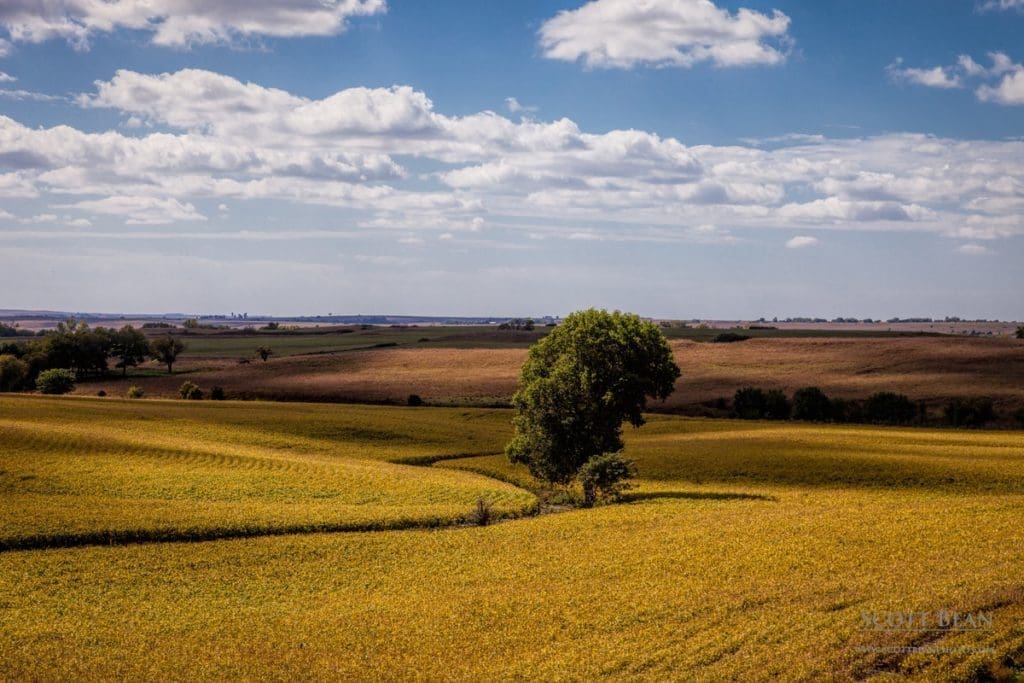 Kansas also produces soybeans, which early in their season provide a vibrant green to the fields. After the crop matures, the crop turns to a yellow/gold color as seen in the photo above. The filtered light coming through the clouds on the day I photographed this field gave the field a golden tint that reminded me a bit of a summer wheat field. I thought the lone tree was an interesting addition to this field and combined with the strong line running by it, this really caught my eye. I drive by this field frequently and always thought it might make an interesting photo if conditions where right – which they were on this day. I haven't been able to make many photos of soybean fields that I was happy with, but I like the way this one turned out. This photo was made on October 1st of last year, in either southern Marshall County or northern Riley County, Kansas.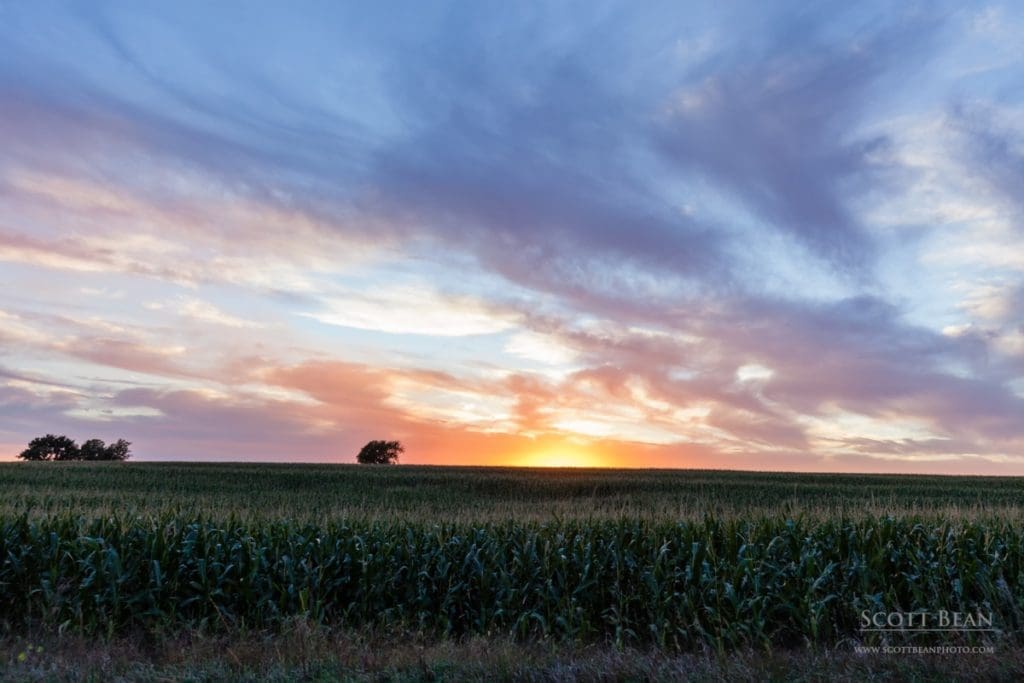 Of course when you talk about fall crops, you can't leave out corn. I've always had trouble getting good photos of the corn fields, especially trying to find a vantage point to shoot out across the fields. I made the photo above during a sunset in early fall last year. I'm going to have to work on finding creative ways to photograph the corn fields, especially when they are tasseling.
The changes to the fields will probably be something I'll always photograph. On a higher level, it will be interesting to watch how the stresses of a changing world impacts the agriculture around me. I've always been impressed by the people who make a living feeding the world, there is no way I could handle the stress and anxiety watching the weather, changing markets, etc. As world populations increase, food demand increases, and rural population demographics change, it seems to me like these stresses will increase. I'm sure our farmers will be up to the challenges though.
As always, thanks for reading this post. If you would like to see more of my agriculture related photos please visit my photo gallery "Beauty in Agriculture" and if you would like to be notified of new blog posts, shows, events, print sales, etc. please sign up for my email list.