Earlier this fall my Dad and I made our annual photography trip down to the Barber-Comanche-Clark county area. We have been going down to this area of Kansas for the past several years and I always enjoy these trips. The Bean family got its start in Kansas in Comanche County in 1885 and it is fun to photograph in parts of the state with a lot of family history.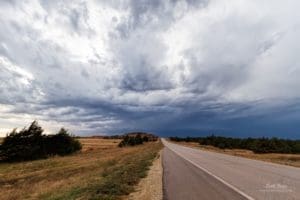 (ISO 100, 10mm, f.8, 1/25)
Normally Dad and I spend quite a bit of time photographing in the Gyp (Red) Hills area around Medicine Lodge, but this year we got rained out which limited our photo time there. The photo above shows the storm that greeted us on our first night in Medicine Lodge. The following morning when we left was rainy and cloudy as well so we didn't spend much time in the Red Hills this year. We will be back though I'm sure.
The second part of our trip took us to the Big Basin and Little Basin/St. Jacob's Well area in Clark County. Big Basin is an interesting place formed when a large sinkhole (roughly a mile across and 100 feet deep) collapsed long ago. Dad and I had visited here once before, but had not spent much time on our previous visit. This trip we had planned to spend the second half of our trip photographing here.  We arrived early in the afternoon and had a really beautiful blue sky with great clouds to work with…it would have been almost perfect except for the fact that the wind was gusting up to 40 mph! The wind made it difficult to shoot, but it also meant the clouds were shooting across the sky constantly changing the light and shadows on the landscapes. In the photograph above you can see my Dad on the right edge of the frame which gives the photo a nice sense of scale.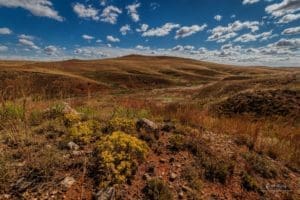 (ISO 400, 10mm, f/8, 1/1600)
I loved the landscapes of hills and draws at Big Basin and, despite the wind, really enjoyed my time there.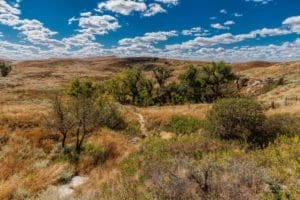 (ISO 100, 12mm, f/8, 1/250)
We also made sure to drive through Big Basin to St. Jacob's Well which is located in the Little Basin (also formed from a collapsed sinkhole). St. Jacob's Well is a permanent pond which has never been known to go dry. The photograph above shows the trail that leads down to St. Jacob's Well. The only other time I had been here it was raining with some intense lightning, not conditions I really wanted to get out and explore in so I didn't it make it down to the pond.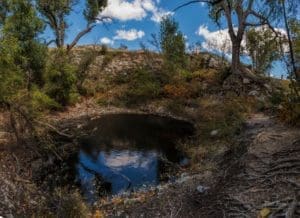 (7 frame pano, each exposure ISO 100, 10mm, f/8, 1/100)
This trip I did make the short walk down to the water. The historical marker at Big Basin states that this water source has been visited by humans for centuries and it was interesting to wonder about all the people that had stood where I was standing when I made the photograph above.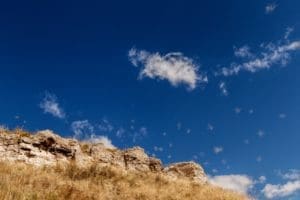 (ISO 100, 17mm, f/8, 1/400)
It was good to finally get a chance to make it down to St. Jacob's Well but it was also good because it was sheltered enough that I got out of the crazy, crazy wind that was trying to blow Dad and I into Oklahoma. On the walk back up the hill to my vehicle, I was able to photograph some of the seed heads that were blowing in the wind as they came over the side of the hill. I don't know what plant these things belonged to, but you could tell they were well designed to be dispersed by the wind!
Despite the wind (did I mention it was windy?) and stepping in something I don't want to think too much about and ruining a pair of boots, the trip to Big Basin was fantastic and I'm looking forward to getting back to this area next spring and spending some more time here (and the Clark County Lake, which I really want to spend a couple of days exploring and photographing!).
These trips make some very precious memories for me and the fact that Dad and I are able to spend time together photographing in the area of the state where the Bean family originally settled in Kansas is extra cool. I love it when my photographs are able to evoke good memories for people and in this case, the making of the photographs are forming great memories for me.

(5 exposure pano, each frame ISO 100, 55mm, f/8, 1/400)
If you like to see more of my photographs of Kansas Landscapes please visit my "Unexpected Landscapes of  Kansas" photo gallery and the rest of my photographs featuring the prairies and open spaces of the Midwest.