Kansas often gets stereotyped as having no landscapes other than one large wheat field. This isn't quite accurate, but Kansas does have a large number of wheat fields and those fields produce a large portion of the US wheat supply. In fact, Kansas is normally the number one wheat-producing state in the U.S. and produces about a fifth of the total U.S. wheat crop.
Large wheat fields can be an impressive sight if you haven't seen them before and do offer interesting photo opportunities.  Personally I think the wheat fields are at their most photogenic right before harvest when the wheat has matured. At this stage the wheat is various shades of color ranging from a pale almost white to a deep amber color. Once wheat is ready to harvest it isn't in the fields long. Farmers try to get wheat harvested as soon as possible to avoid any losses.  Often I've scouted out a field to photograph only to arrive and find it has been cut.  This year though, things worked out well and I was able to photograph several fields.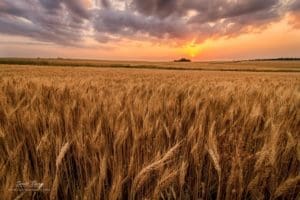 (ISO 100, 10mm, f/8, 1/25th)
The photograph above was made in Marshall County on a trip out to photograph the wheat fields with my Dad. The clouds were pretty solid in the west when the evening started and it looked like there wasn't going to be any sunset to speak of. We were headed back home when the clouds broke up some and let the sunset show through. I decided to photograph the scene with a wide-angle lens getting close to the wheat at the edge of the field. This let me include enough detail on some heads of wheat in the foreground to clearly show that this was a wheat field.
  (ISO 100, 10mm, f/8, HDR- various shutter speeds)
This next photograph was made in northern Riley County (in northeast Kansas). Again I used a wide-angle lens to capture the expanse of the field and include the drama of the sunset. I needed something in the field to add some visual interest so I included the tire tracks through the field.
 (ISO 100, 10mm, f/11, HDR- various shutter speeds)
This photograph was also made in northern Riley County on my third trip out to photograph the wheat. I was happy to find that the fields hadn't been harvested yet. Like the other photographs in this post I used a wide-angle lens to show as much of the 'amber waves of grain' as I could while still including the sunset. To add some visual interest in the foreground I included a patch of wheat that was lighter in color than the surrounding wheat. I hoped this would be enough to make the photograph interesting and I was happy with the way this photographed turned out after processing it to bring out the foreground wheat. This photograph turned out to be my favorite from this year's harvest.
I know some people might scoff at the idea of photographing wheat fields and that wheat fields could hold any beauty. Having been involved in agriculture to some degree my whole life I enjoy going out to photograph the wheat each year. Interest and beauty can be found anywhere you take the time to look…even in the fields of the Midwest! Going out to photograph various aspects of agriculture is also a good reminder that food doesn't magically appear in the grocery store. It all has to come from somewhere and be produced by someone.
(see more of my "Beauty in Agriculture" photographers)
  (ISO 100, 10mm, f/8, 1/30th)