On September 12th two coronal mass ejections from the sun hit the earth generating the possibility of northern lights in northern Kansas. I've never seen the northern lights so my wife and I and a good friend headed out north of Manhattan to see what we could see. Turns out the northern lights didn't make it far enough south for us to see or photograph. But it was a nice night and the Milky Way was there just asking to be photographed. No sense in passing up a chance to do some Milky Way photography!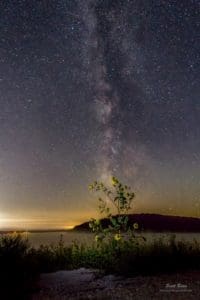 (ISO 3200, 11mm, f/4, 30 seconds)
We were at Carnahan Cove on Tuttle Creek Lake with the Milky Way rising out over the lake. Walking along the edge of the lake I came across some wild sunflowers which I thought would pair nicely with the Milky Way in the background. I lit the sunflowers with my headlamp in the photo above, which turned out nicely.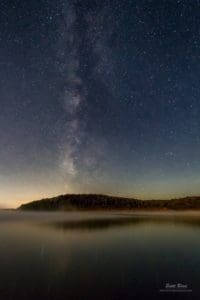 (stack of 2 exposures both ISO 3200, 11 mm, f/4, 30 seconds)
My next stop was on the boat ramp at Carnahan Cove. There was fog coming off the lake at this point in the evening and I was curious how it would look at night. The fog didn't show up very strongly in the photos, but it was a neat experience watching the fog strengthen over the water while we were there. As I was making this set of photographs, my wife noticed a bright light on the horizon behind us. Turns out it was the moon rising which was really beautiful. The rising moon also started lighting up the landscape (and dimming the Milky Way). You can see some details on the far shoreline in the photo above where the moon was lighting the area up.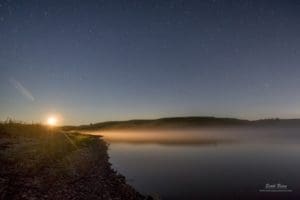 (ISO 3200, 11 mm, f/4, 30 seconds)
The rising moon put an end to the Milky Way photography, but it also presented the chance to photograph a moon rise I don't normally get. I liked the way the moonlight was illuminating the fog in the photo above. If it wasn't for the stars in the sky, this would almost look like a sunrise photograph.
Photographing (and just seeing) the northern lights is still on my bucket list. Hopefully one of these days I'll make it up north to Alaska but until then I'll keep my fingers crossed that I get more chances to see them here in Kansas. I can't complain about the way things turned out on this particular night though, I'm always happy to photograph the Milky Way and to just spend some time out under the stars.
If you would like to view more of my photographs that I hope convey the sense of peace you can find out in nature visit my image galleries at:
http://scott-bean.artistwebsites.com/
Thanks for stopping by!