In my last blog post I mentioned that we have been going through some streaks of cloudy days (admittedly with a few breaks now and then so I don't think it is time to put a coffee shop on every street corner just yet). Grey cloudy days aren't all that conducive for "the wide view" type landscapes so I've been in search of other photography subjects during these times. As luck would have it, a lot of birds have moved into Kansas for the winter, including bald eagles. So I've found myself photographing more birds this winter than ever before. I've photographed birds before of course and had a lot of fun last winter photographing birds in my front yard,  but I haven't usually gone out with the intent to photograph birds (except for bald eagles) like I have this year. I have to admit, I could get addicted to "birding", it has been a lot of fun watching the birds. I'm easily fascinated with their behaviors. Before my current day-job career path took hold of me, I had plans to study animal behavior, so maybe watching the birds is reawakening some buried interests…or maybe I'm just easily lost in whatever is in front of me! Anyway, I thought I would share some of the birds that crossed my path the weekend after Christmas. My wife and I have been making "bird runs" out to Tuttle Creek Lake and the Pottawatomie County Lake near Manhattan and the photos below are from our outings on December 26th – 28th.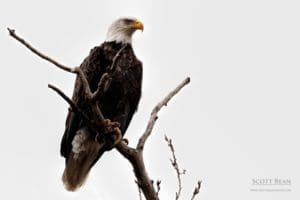 We normally start our bird runs at the Outlet and River Ponds area of Tuttle Creek Lake looking for eagles. Once it gets colder (like it has been this week), I'll start getting more serious about getting out to try and photograph the eagles fishing, but for now it has been fun just spotting them in trees. The photo above was made near "the tubes" at Tuttle Creek Lake. Bald eagles like to sit in this tree, and it is not uncommon to find them in it, which is really nice of them as it is right near a parking area.
In the winter there are always a lot of gulls around. I know a lot of people don't like the gulls, but they are fun to watch and they are great to practice your photography techniques on. Gulls are especially good for practicing photographing birds in flight. I'm not sure why, but for some reason I think people (including me) discount the importance of practice in creative pursuits like photography. We all want to create a masterpiece, NOW. Don't pass up a chance to practice anytime you get it.
After passing through the River Ponds, we normally head out to Pott. County #2 and check on the birds there. Up until this current cold blast, this little lake wasn't frozen and there were plenty of geese to watch and photograph. I'm not sure how much open water will remain with the temps the way they are now, but on this particular weekend the geese were thick. I photographed the pair above as they took flight.
There are several places at Pott 2 where birds seem to congregate and this thicket had several different species I was able to photograph out the window of my vehicle. This bird (American tree sparrow?) was a particularly good subject and seemed to be as interested in me as I was in him.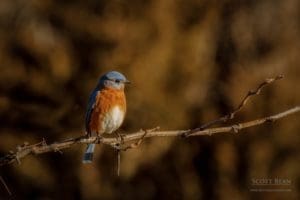 As were driving back into town we came across a large group of Eastern bluebirds, which was a real treat. There were probably 20-30 bluebirds and a few minutes after we stopped, the bluebirds got used to us and didn't seem to mind that we were intently spying on them. Several were landing on the fence only a few feet from the vehicle. This was one of our rare sunny moments during this time span and the light was great for photograph the colorful bluebirds. This was also my first chance to try out my new Apex bean bag that I bought for photographing birds and wildlife from my car. This bean bag allows you to attach a tripod head to it (if you want to, it can be used without). It worked pretty well as long as I was pointing forward. Sitting in the driver's seat in my vehicle, it was a bit awkward if I was trying to shoot pointed straight out the window, but mainly because my steering wheel prevented me from turning enough to position myself better. I need some more chances using the bean bag (back out to the tubes to practice on the gulls!) to get a better feel for how to use it. It would really work great for a photographer in the passenger seat or back seat I think.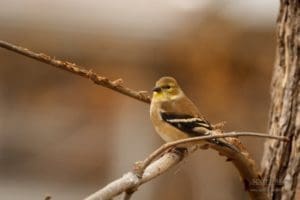 As a bonus, it just so happened that our backyard bird feeders were swamped with birds on this weekend. My wife had given me a bird feeding station for my birthday earlier in the fall and it didn't seem like the birds liked it. I think they were just waiting for the right moment to surprise me and this weekend was it. The feeder is positioned so we can view from our kitchen window and I can take the screen out of the window and have a great place to photograph the birds in the area. I think I'm really going to enjoy that this winter (especially if it stays this cold out, nothing like a heated blind to shoot from).
Am I ready to trade in my wide angle landscape lenses for telephotos and photograph only birds? No, not by a long shot, but I'm going to take opportunities to focus on photographing birds when I can. One thing I've learned about myself is that I really enjoy learning new aspects of photography and trying to get better at bird photography is going to give me plenty of things to learn, especially bird identification. A deeper connection to the world around me, a chance to learn new things, how can that be a bad thing?
You can view some additional bird photographs in my wildlife photography gallery.