With the recent snow storm in my area and the gloomy cloudy days I haven't made it out to the countryside for a while now. I can't say I'm going through withdrawal or anything like that (it hasn't been that long) but I have missed spending some time outside. I did get a bit of a nature 'fix' while it was snowing though by watching and photographing some birds that were sheltering (such as it was) and feeding in a crabapple tree just outside my front picture window.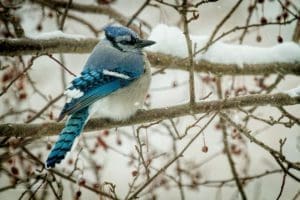 (ISO 400, 400mm, f/8, 1/100)
My wife called my attention to the birds and suggested I get my camera and I'm glad she did (she is usually right about things like this, but don't tell her I admitted that).  There were several blue jays in the tree and I was able to photograph them both through the window and by removing a screen and opening the side window (that way I could photograph without needing to shoot through the glass).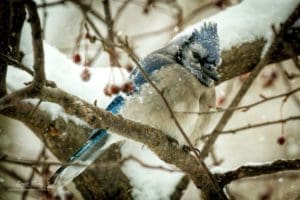 (ISO 400, 400mm, f8, 1/250)
It was fun to watch the birds though I did appreciate the fact that I was inside with a heater. I know, I know the hypocrisy abounds, talking about getting a nature fix from inside the comfort and warmth of my house. Believe me, I would have enjoyed getting outside to shoot some landscapes when the storm was over (still hoping to do some landscape shooting this week before all the snow melts), but at the height of the storm when the snow was really coming down and the wind was blowing strong I was glad to be inside.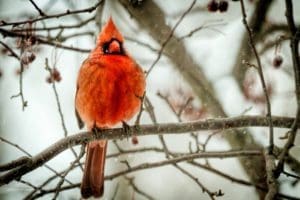 (ISO 400, 400mm, f/5.6, 1/200)
In addition to the blue jays, we also had a male cardinal visit for awhile. Cardinals are always a treat to see and if I can anthropomorphize for a moment (I love that word), he looked a little grumpy and didn't seem to particularly enjoy having his photo taken – a sentiment I can totally understand.
Bird photography is not my strong suit, if you want to see some really cool photos of some back yard birds check out Wayne Rhodus' work in this area. "Nature" doesn't have to be far away and taking a break to enjoy any kind of nature (birds in the yard, a house plant, etc.) can be a good way to relax and reconnect for a minute.