So those of you reading my blog (all 3 of you!) know that I like photographing locations I'm familiar with and one those locations is "the rocks" in the Spillway State Park on Tuttle Creek Lake.  I'm not really sure if I could say exactly what it is about this particular place other than I just like being there. It's peaceful. Maybe it is the sound of the waves along the shoreline. Maybe it's just that I'm outside (I do think most places I photograph are peaceful, otherwise why would I be there with my camera?). I'd really like to come up with some deep, wonderful thing to say about 'the rocks' but I'll have to settle for the simple fact that I like going there. So much that I've been there several times this summer. Doesn't photographing at the same place get boring? Sometimes, but when I get bored it isn't so much where I am as the frame of mind I'm in. If I'm at a location and I'm bored then I'm not really there, my mind has probably carried me off somewhere else (like back to the office and all the 'stuff' I need to get done) and I'm not paying attention to what is around me now.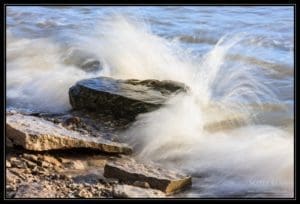 Honestly though I haven't found myself bored when I'm shooting very often and it hasn't happened to me at the rocks; too much neat stuff to explore there.  On one of my first trips to the rocks this summer I thought I would try to make some photos of the waves rolling onto shore. This was something new for me and I had a lot of fun getting right down on the shoreline and watching the waves come at me. Definitely something I want to try again.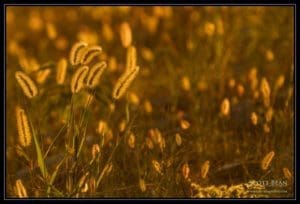 The rock ledges around this part of Tuttle fascinate me I think because they look almost like someone had them installed as a patio around the lake.  The light is great up on these ledges at sunset, too. There are always a few flowers and some grasses growing on the higher ledges and you can get some great back lighting.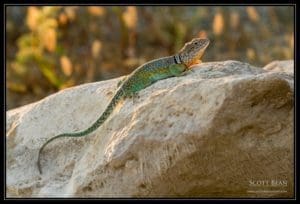 Occasionally you do have to share the area with some sunbathers. I came across this male Eastern Collard lizard catching some rays in late July. He was a great model, didn't make any demands and I didn't even have to get a model release from him.
And of course there are the sunsets. The sunsets from the rocks can be outstanding. You have a great view of the lake and at the end of the day the winds die down and any color in the sunset gets reflected in the water…wow.  And then you find out how handy the rock ledges around the lake are for sitting and watching the sunset.  I like roaming around the shore line looking for interesting subjects to photograph with the setting sun, patterns and cracks in the rocks, flowers, driftwood.  I'm sure some find photographs of the sunset to cliché and done to death but I don't think I'll ever get tired of photographing a sunset. If you find yourself in need of a good place to watch a sunset, Spillway State Park has some nice rock ledges you can sit on (and even some picnic tables in the area if you'd rather not climb around on the rocks).