(5 shot stitched panorama, each frame ISO 100, 24mm, f/8, 1/20)
Each year portions of the prairies in the Flint Hills of Kansas go through a fascinating transition, literally 'rising from the ashes'. This is due to the controlled (sometimes referred to as "prescribed") burning of the prairie in the very early spring. I love to photograph the burns and I've blogged about shooting this year's regular burns as well as some late burns.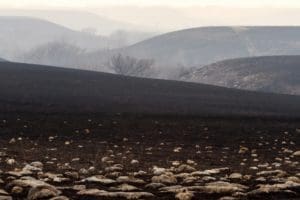 (ISO100, 100mm, f/8, 1/60)
In this post, I want to share some photos of what happens soon after the burns. Immediately after the burns the prairie looks like what you would expect – a burnt, charred landscape as shown in the photo above. It is hard to imagine, but these bleak, devastated looking areas are about to undergo an amazing rebirth.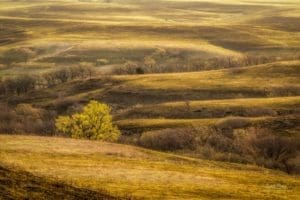 (ISO 400, 105mm, f/4, 1/800)
Not long after the burns (sooner than you would think), the new growth of the native grasses begins. Provided the conditions are right (temperatures and moisture), this new grass will grow quite fast.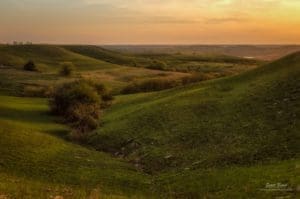 (ISO 100, 24mm, f/8, HDR-various shutter speeds)
Catch the Flint Hills late in the evening during this time period and it is truly magical. The green of the new grass is so vibrant (provided there isn't a severe drought going on!) that you can't help but be happy when you're standing in front of a wide open view of the prairie.
(ISO 100, 24mm, f/8, 1/25)
This year has been a good one in terms of moisture. We got off to a slow start, but the rains have been pretty regular the last few weeks which has the prairie looking pretty good right now. The northeast corner of Kansas is only listed as "abnormally dry" at the U.S. Drought Monitor (which is a lot better than Western Kansas which is still in an "extreme drought").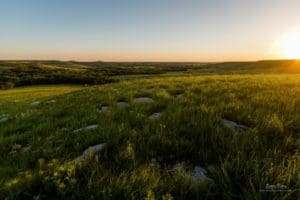 (ISO100, 10mm, f/8, HDR – various shutter speeds)
Now is a good time to get out and take in the results of the fascinating early spring transformation of the tall grass prairie. There are several places you can explore the Flint Hills of Kansas including several  scenic byways including the Flint Hills Byway, Native Stone Byway, Skyline/Mill Creek Scenic Drive and hiking trails on Konza Prairie and the Tall Grass Prairie Preserve. If you see some really vibrant, green stretches of prairie it probably wasn't that long ago that it was just scorched, blackened earth. The relationship between fire and the tall grass prairie is pretty interesting and has a long history. If you get a chance, it is enjoyable to experience it in person. Mother Nature is pretty amazing.
You can view more of my Flint Hills photos at following photo galleries on my website:
The Flint Hills – The Intimate View
The Flint Hills – The Wide View
The Flint Hills – The Panoramic View