A Dry Moonrise
We had a brutal hot, dry summer this year in Kansas and I'm glad it is over.  Unfortunately, the drought the summer brought is still hanging around with much of Kansas in either an extreme or exceptional drought (interesting use of the word 'exceptional' for the worst category of drought, I think I would have gone with horrendous). Accordingly, several lakes in the state are experiencing very low water levels; Tuttle Creek Lake is listed as being "11 feet low and dropping."  Most of the boat ramps are out of the water now and in some cases quite a ways from the shoreline.
The low water has made for some interesting photo ops however.  Shorelines that are normally underwater can now be walked along. I've heard stories of people finding all sorts of interesting things and structures that were flooded when lakes were made are now becoming visible again.
A few weeks ago at the end of October I went out to Stockdale Cove at Tuttle with some friends  to photograph the full moon rising (it was 97% full on the night we were out, close enough to full if you round up!). In the fall the moon rise lines up with the cove at Stockdale and you can get some interesting scenes with the moon rising behind dead trees out in the water, like the photo shown above which was made on Halloween 2009.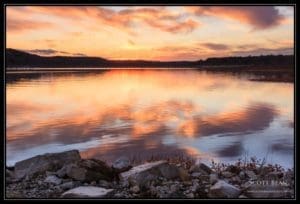 With the water levels so low this year we weren't going to get a repeat of the 2009 Halloween moon rise. Our first stop was near a boat ramp where I have photographed some nice sunsets reflected in the water. The water was way too low for that this year. The above photo is looking west toward sunset; this area would normally be all under water. The "Stockdale Sunset 2011" photo above was near where the "high and dry" photo was made.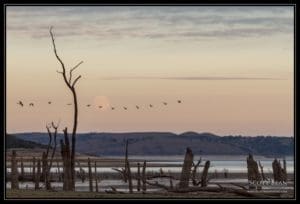 We weren't going to get any photos of the sunset reflected in the water, so we moved back toward the start of the cove to look for locations to photograph the moon rise. With the low water this year, we were able to walk out into the cove for photos that would normally not be possible. I set up to photograph the moon rising near some interesting tree formations and just as I was getting ready to shoot a heron flew through the scene. Hoping it would fly in front of the moon I fired off 12 frames as the heron flew by.  Rather than keep just one of these frames, I decided to combine them all into one photograph, I think this tells the story I wanted to tell better than just a single frame could do.
All of us continued to work along the dry lake bed photographing the moon as it slowly rose towards a cloud bank that had moved in above it.  As the moon was just gliding into the clouds I had the chance to make another photograph with a bird flying through the scene.
The low lake levels did make for some interesting subjects, but honestly seeing the dry cracked lake bed was a bit depressing, but Mother Nature was making the best of it. Just as we were leaving I stumbled (literally) across this flower growing in the dry lake bed (another photographer out with me had already found and photographed this flower, I almost completely missed it and I probably would have if I hadn't almost stepped on it). The rains will come again, if not next year then the year after (hopefully next year though!) and the lake will be back to normal and the lake bed we walked along hidden under water again. Nature takes what comes and goes on. Probably a good lesson there to be learned.
As we were packing up to leave, the last bit of sunset decided to put on a colorful show, guess it didn't want to be overlooked by the moon rise. A weak light pillar tried to form, but did not really show up in any of my photographs. I was able to get a couple of photographs of the sunset color along with an interesting piece of driftwood before all the color was gone.  I think I will be back to visit this driftwood and all the dead trees standing out of the cove at Stockdale this winter. It was fun to walk through this 'forest' of trees that you can't normally walk through. When life hands you a drought I guess you can always make photographs while you wait for the rain.