Back in May I had the chance to do some exploring down around the Matfield Green – Cassoday area of the Flint Hills with fellow photographers Dave Leiker, Jeff Heidel, and Chris Soupene.  I had only been down around this area a couple of times and then only to the area immediately around Teter Rock. I was really looking forward to seeing the views from Texaco Hill after seeing some of Jeff's photos from the area.
I spend a lot of time exploring the Flint Hills in northeast Kansas around Manhattan and Alma and love the wide open views of the Flint Hills in that part of the state, but the views as we drove east out of Matfield Green were even more impressive.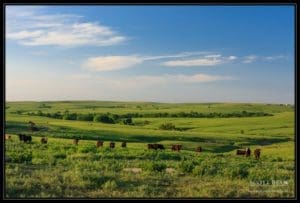 We had picked the perfect time in the spring (late May) to be out and the hills were in the peak of their Spring colors. The early evening sun was casting great shadows across the hills really showing the shapes of the landscape.  Every time we stopped to do a little photography it seemed like you could see forever.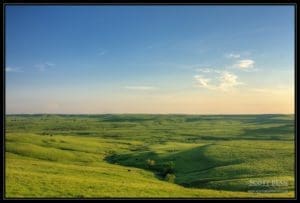 I loved the feeling of standing on the hill tops looking out across the Flint Hills. I read a photographer state recently that they didn't feel that using a wide angle lens could really connect a photographer to the landscape.  I'm sure that is true for some people and I can see how shooting the wide open landscapes might make some feel a bit removed from nature, but for me trying to photograph the "big" landscape and convey the sense of openness I feel is what connects me to landscapes like the Flint Hills.  I also think it helps keep things in perspective…I want to try to show that there is more to the world than what immediately surrounds us and is in our face. We have so much "stuff" competing for our attention today. It is probably just me, but I like the feeling of standing on a hill looking out over a huge expanse of prairie and feeling just a small part of it. It is a reminder (in a good way) that whatever is going on at any given time really isn't all that important.  Anyone reading this that really knows me will get a laugh out of that as I certainly can worry too much about what is immediately going on in my life…usually that is a good indicator that I need to get out in the prairie for an "attitude readjustment."
Anyway, back to the trip…it turned out that we had picked a really great day to be out in the Flint Hills as there was a partial solar eclipse right at sunset. While we were shooting from Texaco Hill, the gang decided to photograph the eclipse at Teter Rock so we packed up our stuff and made a crazy drive over to Teterville. We made it with a little bit of time to spare before we could really see the eclipse so I spent a few minutes photographing sunset from the great views around Teter Rock.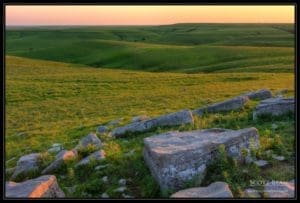 I wanted to try to photograph the eclipse with Teter Rock in the scene and the composition I settled on didn't really allow for me to show the eclipse very large, but if you look carefully you can see the eclipse in the above photo.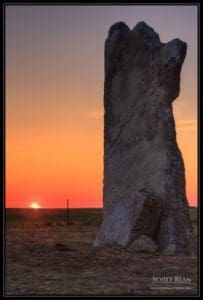 This was a fantastic trip and I'm looking forward to getting back to this area to do some more exploring. I hear tell that there is a great hamburger to be had in Matfield Green too…even more incentive to get back down that part of the Flint Hills!