A couple of weeks ago I was driving back into Manhattan at the end of a long day (up at 5:00 am, yuck!) and I had a good chance to watch the clouds changing in the west.  It was late afternoon and the clouds were really forming some interesting patterns and textures. Not too much cloud cover and not really solid in anyone spot…ideal for a fantastic sunset to photograph.
I didn't have much time so I had to pick a location close to home. It was a still evening which would mean there would be a chance for some nice reflections shooting over water toward the west.  A nice location that was close and would let me shoot over water facing west was Stockdale Park….just what I wanted.  I've written before about the benefits of knowing the area close around your home base…it really pays off in situations like this.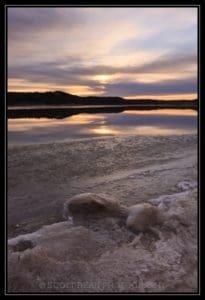 So I've got my camera and tripod in the car and I'm heading to a great location and I'm thinking this is going to be great! However, in the short time it took me to get home, get my gear and get back in the car the clouds had really moved in to the west, to the point where the entire horizon was solid overcast. Not good for my sunset photography plans. I was amazed by how fast the sky had changed. I was also struck by the fact that I was paying such close attention to how the sky was changing.  Paying more attention to the natural world around me has been one of the best things that I have gained from photography.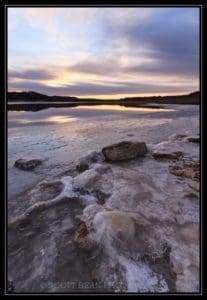 Just as fast as the cloud cover had increased it started to break up as the sun was setting. Maybe I was going to get my great sunset after all.  With the cloud cover opening up some, I spent some time working up and down the shoreline looking for interesting foreground compositions in the rocks and ice.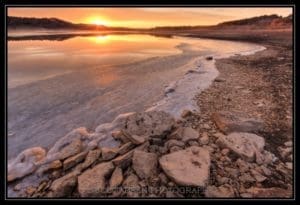 As the sun was just sinking below the horizon the colors of the sunset really picked up. The lake was still so I was getting nice reflections in the water.  It was getting colder as the sun got lower, but it was still a beautiful evening. Still, quiet, very peaceful. I recently ran across a blog post "For Great Photographs, 'This is What I Saw' Isn't Enough" which discussed trying to create more with a photograph than simply the light that was recorded. That might sound strange given that photography is about recording light, but I really liked this blog post. It put into writing something that I haven't been able to very well (I did try once with this post, but I don't think I got the point across well).  Creating a photo for me means more than simply trying to record light…I want to convey what it was like to be there, a sense of "wow what an evening to be alive!"  For the photograph above, I hope viewers feel a sense of calm, maybe a feeling that it was cold that evening and also a feeling of "wish I would have been there".
All in all another great evening out in nature. And a good feeling about noticing that I was noticing nature more, that I was paying attention to something other than my to-do list, responsibilities, etc.  Who says art isn't good for the soul?
Technical Stuff
All the photos in this post were made with an ultra wide-angle lens (16-35 mm full frame equivalent). All are HDR (high dynamic range)  images.  Why HDR's in this case? That was the only way I could record the range of light in these scenes, the difference in light between the foreground and sky was too large for my camera to capture it. I could have used a split neutral density filter, but I prefer HDR.  Not that HDR is any better, or worse, than using filters it is just the tool I prefer to use.  I selected low shooting positions to emphasize the foreground in these shots and tried to select compositions with the foreground scene "pointing" more or less toward the sun.  I used f-stops ranging from f11 to f18 depending on how close I was to the foreground. I needed everything in the photo sharp, but I wanted to use only as much f-stop as I needed so I didn't lose sharpness to diffraction.