In my last post, I talked about photographing the beginning of an amazing sunset last Sunday (part 2 of which is coming soon!).  I ended the day on Sunday with photography and I also started the day with photography. Sunday morning I was out at the outlet area of Tuttle Creek Lake to watch, and hopefully photograph, the bald eagles that are in the area. It surprises people sometime to talk about bald eagles in Kansas but some do over-winter in Kansas and the number of nests in Kansas has steadily increased I've gone out to try and photograph eagles at both Tuttle Creek Lake and Milford Lake in the past, and last year I was fortunate to get my first real attempt at getting some photos of an adult bald eagle taking a fish out of the water so I've been looking forward to the eagles' return to the area this winter.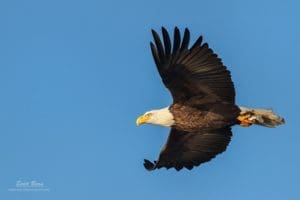 ISO 400, 400mm, f/5.6, 1/2000
It turned out to be a great morning. The weather was really nice (especially with the cold spell we had just been through) and I had the chance to catch up with my good friend and fellow photographer Wayne Rhodus. Nice weather, good conversation and eagles flying around…not a bad way to relax on a weekend morning.  As I was getting into position, I saw a juvenile bald eagle take a fish but I wasn't in position to photograph it. Shortly after that an adult came down and got a fish. I wasn't able to get a good photo of the moment when the eagle hit the water, but as it was leaving the area I was able to get some nice shots of it carrying the fish away.
ISO 400, 400mm, f/5.6, 1/2000
At this point breakfast must have been over as no more eagles came down to fish, but several were soaring over head which was an awesome sight.  I've been reading a book by David duChemin, Within The Frame – The Journey of Photographic Vision, where duChemin writes about photographers sometimes confusing their subject matter with the subject (I highly, highly recommend this book). This really resonated with me and it has been interesting to apply this idea to my work. In the past when asked what the subject of the above photo was I would have said it was the eagles, duh. But now I think I would say the eagles are the subject matter, the actual subject is what the eagles convey to me; freedom, power, majesty, awe, grace, beauty, nature, etc. (Which is probably why I'll be back out at Tuttle this winter to watch them.)
If you are interested in more information on bald eagles in Kansas, several area lakes have "Eagle Days" for example Tuttle Creek Lake is having theirs on Jan 4th, Milford Lake on Jan 18th, Clinton Lake on Jan 25th and Wyandotte County Lake on Jan 25th and 26th.
On a technical note, last winter when I was trying to photograph the eagles I finally configured my camera for photographing birds in flight and saved those settings as a custom function on my camera. Now whenever I need to, I can set the main dial on my camera to one of its custom settings and my camera is set up and ready to go. This has been a great feature of my camera that I wasn't taking advantage of previously.  Since most of my photography is landscape photography, the majority of the time I need my camera configured differently than I do when photographing birds in flight (or any kind of action) so having the ability to simply turn a dial to a custom setting and have the camera ready to go has been great. If your camera has the ability to store certain configurations as a custom setting I recommend taking advantage of that and storing some different camera configurations so you can quickly access them.