Last Saturday I had great plans for another sunrise shoot at the small cove along Tuttle Creek Lake that I had recently visited with Chris from LaBrissa Photography.  Friday evening I did a bit of homework to see what the conditions might be like Saturday morning.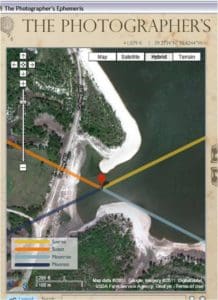 First, I checked the position of sunrise with The Photographers Ephemeris and as you can see from the screen shot above, the sun would be shining right into the cove (the path of the sunrise is shown in yellowish color). Perfect.
Next I checked the weather forecast which called for partly cloudy skies around the time of sunset with clear skies about an hour later. I hoped this meant the cloud formations would be changing quite a bit during sunrise. Partly cloudy skies are ideal for sunrise or sunset and with the clouds possibly changing during sunrise that meant the possibility for some great photography.  The forecast also indicated that conditions were right for some possible fog…and for almost no wind.   Perfect!  This was going to be an amazing photo op and possibly one of the best sunrises I would ever photograph!
I even remembered to set two alarms for the next morning to make sure I made it out of bed in time to be on location before sunrise (luckily I only live about 15 min from my destination so I didn't have to get up that much before sunrise….another benefit of photographing close to home).  I checked my camera batteries and cleaned my lenses and I was ready to go.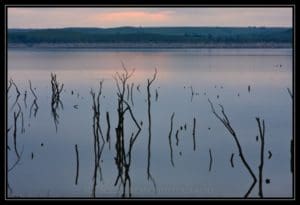 And the photograph above was the sunrise that greeted me Saturday morning.  Not at all what I was expecting.  No dramatic light to photograph, no cover shot for National Geographic in the making…nothing at all to inspire me, nada, zero, zilch.  I packed up my gear and went back home…with the closing of our last donut shop not long ago I didn't even have anywhere to stop and bury my sorrows in deep fat fried sugar and flour.  Sigh.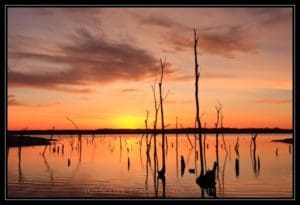 The photograph above is what I was hoping to get a repeat of.  But that is how it goes.  Sometimes you get what you expected (and quite often you get way more than you expected), and sometimes you don't.  And that is why you go back to familiar locations again and again.
I could probably throw in a poorly made attempt to use the famous Forrest Gump quote about landscape photography being "like a box of chocolates", but I won't go there.  Instead I'll check the weather forecast and see what the next couple of days look like.  "You never know what you might get."