I've noticed several photographers posting sets of their 10 favorite photographs from the past year so I thought that might be interesting to try.  Turns out it was an interesting exercise digging through all the photographs I made this past year, but not so easy to select 10 for this post.  Initially I had planned on selecting my "favorite" photographs, but then I had to ask myself what I meant by favorite…was this to be in terms of aesthetics? technical difficulty in getting the photograph? how much I enjoyed the shoot when the photograph was made? how much I liked the location?  So after extremely over thinking this, I selected 10 photographs that I thought it would be fun to share at the end of the year.  So this is my list of "just 10" photographs from 2010 (in no particular order).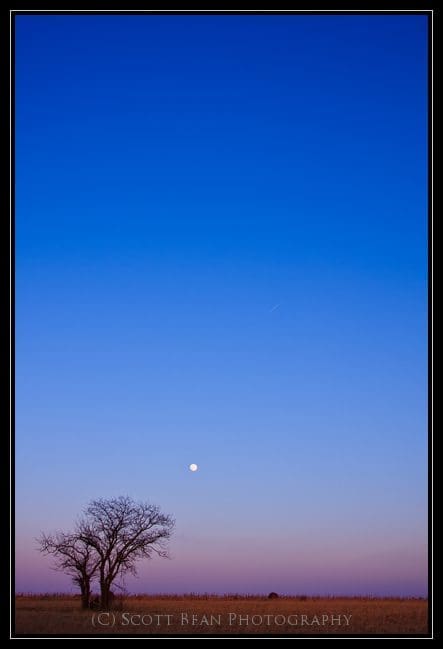 1. "In Perspective":  I made this photograph at Tuttle Creek Lake one evening in the earlier spring. I had planned on going to the Garrison Park area (Broken Arrow) but hadn't accounted for the high lake levels in the spring and the area was flooded.  So I ended up driving up out of the lake earlier than I would have otherwise and stumbled right into this beautiful moonrise.  All that grumbling I was doing about not being able to photograph exactly where I wanted was a waste and it turned out I probably had better photographic opportunities from the moonrise than I would have had for a sunset over the lake had the lake not been so high.  Lesson learned (well probably not, but lesson accepted at the time!).  I made several photographs of the moon rising beside this tree where I 'filled the frame', but I liked this one the best.  I made a deliberate decision to make some photographs with the moon and tree small in the frame, I wanted to create a sense of smallness, I think to represent that we are all actually not that important in the grand scheme of things.  This was not meant in a negative way, but rather a positive way.  Things like having your photographic plans foiled by high water are simply not that important, no reason to get upset about it.  Most things in life are probably that way.  This was one of the first times I thought about sort of feelings I wanted to create in a photograph before I made the photograph.  Something I want to work more on in 2011.
2. "Pool":  This is one of those photographs that I selected partially because I like it and partially because of the location.  I absolutely love to make photographs of waterfalls and I was very excited to find this 30′ set of falls not from where I live.  This is the outlet of the Geary County State Fishing Lake and these falls were fantastic!  When I first arrived at this location I spent quite awhile photographing just the falls without accounting for the overall location.  These photographs were 'ok', but didn't really capture much of the sense of the place.  After my initial excitement of finding these beautiful falls was over, I remembered to look around for some more interesting compositions of the falls that would include the whole location. I think this was my best attempt.
3. "Reaching for the Stars": I probably could have filled this list of 10 photos with Milky Way shots from this year, but I decided to limit myself to just one. I had a great time this year going out several times during the dark of the moon chasing the Milky Way around different parts of the state.  I don't think I will ever get tired of trying to photograph the stars.  It is so peaceful out under a dark sky at night.  I highly recommend that everyone put on their to do list for 2011 to spend some time out under a dark sky (and try to find a truly dark sky).
4. "Pure Joy":  This is one of those photographs that I can't take any credit for whatsoever, this one is all Mother Nature.  I stumbled onto this photograph one morning while out trying to get some photogpraphs of the fog. I was driving along a dirt road (probably faster than I should have been) and came over a small hill and on the left side of the road was this scene.  I hit the brakes, fished tailed all over the road getting stopped and jumped out with my camera to get a photograph as fast as I could. I had no idea how long this light would last. I made 6 or so photographs and then the sun had moved enough that this fantastic light and reflection of the tree in the fog was gone.  This was the first one I made and my favorite.  I named this photograph "pure joy" because that is what I felt when I came over the hill and saw this.  What an amazing experience.  The whole thing lasted only a few minutes and I think it is interesting to consider all the factors and 'things' that happened to put me in this spot with my camera during those few minutes. That is interdependence!
5. "Illuminated": This is a photograph I made out shooting with my Dad.  We went to one of our 'go to' spots near Waterville, Wildcat Road, and it did not disappoint.  I really liked how the setting sun was lighting up the grass along the side of the road in this photograph.  This was one of those photographs that I had let get buried in my archives from the past year and I'm glad I dug it up. I think maybe it will go on the wall soon.  On another note, one of the greatest benefits that I have gotten from photography is the time it has allowed me to spend with my Mom and Dad.  Every couple of weeks I try to go visit and take some photographs with my Dad. Of course I always happen to be there around lunch or dinner too so I can get some of Mom's cooking!
6. "Who Knew":  This was a sunrise photograph I made at Stockdale Park at Tuttle Creek Lake.  This was an absolutely amazing morning with the sky going through a series of color changes as the sun came up.  I've made a lot of photographs at Stockdale Park, it is really becoming a favorite location of mine.  I'm sure there will be lots of Stockdale photographs from me in 2011.  This was also the start of increasing sunrise photography by me. I'm not a morning person by nature, but after seeing this sunrise I've become more of one.
7. "Fenced In": This was an infrared photograph I made while on a road trip with my Dad.  This was almost perfect conditions for some IR photography and I was really happy with how this one turned out. I've always liked fences like this and I really liked how the fence and the foreground tree framed the tree in the background.  One goal for me in 2011 is to use my IR camera more often!
8. "Through the Fog":  I made this photograph on another sunrise trip.  I was out looking for fog photographs and ended up below the dam at Tuttle Creek Lake photograph the fog rising off the water there.  I had planned on trying to make a photograph of the sun rising over the small lakes below the dam at Tuttle, but I picked a poor location for that. However, there were lots of gulls flying around that morning and I had fun photographing them and the other birds in the area as the sun came up. I made several photographs this morning that I liked, but this was probably my favorite.
9. "Nighttime": This was a different kind of night shot that I was used to doing.  Normally when I'm out at night I'm out during the dark of the moon so it is as dark as possible.  These times are best for recording the Milky Way; as much as it pains me to say this, for that type of photography the moon is a source of light pollution.  However, you can take advantage of the full moon when photographing at night by shooting when the moon is bright, in which case it lights up the landscape for you.  By using long exposure times you can still record stars in the sky and have the moon reveal the landscape for you.  A pleasant surprise this evening was how interesting the clouds ended up being.  I really liked this shot and what it meant…now I can shoot at night during the dark of the moon and the full moon!
10. "Reflecting Pool":  This is another photograph I made at Stockdale Park, this time at sunset.  Again this was an evening where the conditions continued to change as the sun went down, providing me with ever changing subjects to photograph without moving (a lazy photographers dream come true!).  I really liked how the last of the sunlight was hitting the vegetation in the foreground of this photograph.  Earlier in the evening it had been pretty windy, but as the sun dropped so did the wind and by the time I made this photograph the lake was pretty still and the reflections of the sky in the water were outstanding.