Recently I was fortunate to spend a Thursday evening going for a drive with some family members. The route we took is one of my favorite drives and has some great views of the Flint Hills. I often see wildlife on this route as well including deer, coyotes, turkeys and owls. It was a beautiful evening and we intended to watch the sunset and making some photographs of the Flint Hills. I was also hoping see some wildlife, especially some deer.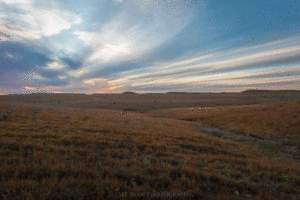 The clouds at sunset created some beautiful patterns and lines in the sky and I liked how those mimicked the lines in the foreground in the photo above. As the sun went down below the horizon, the color spread up into the clouds creating a nice finale to the day.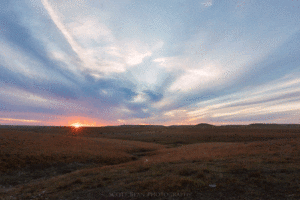 It was really peaceful watching this sunset develop from the wide open view of the prairie in front of me, especially on a cool, still fall evening. Being with family made it that much better. I haven't been making as much time for enjoying evenings like this lately and this was a good reminder that I need to work on that. Time goes by quickly and get away from us and evenings like this help me remember that.
As always, thanks for stopping by and if you would like to see more of my photography, please visit my photo galleries.